5 Lesbians Eating a Quiche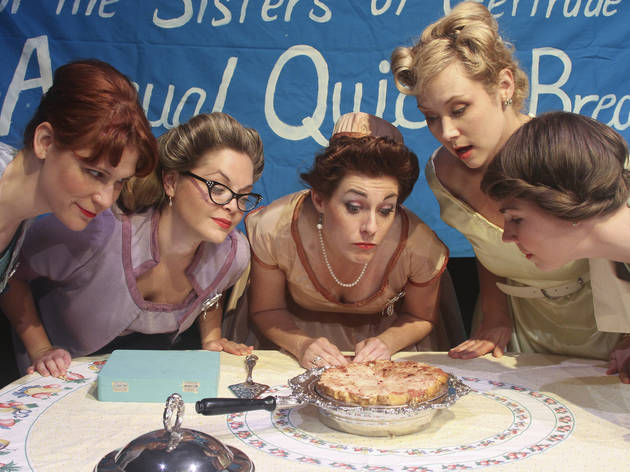 1/5
Photograph: Dixie Sheridan
5 Lesbians Eating a Quiche
2/5
Photograph: Dixie Sheridan
5 Lesbians Eating a Quiche
3/5
Photograph: Dixie Sheridan
5 Lesbians Eating a Quiche
4/5
Photograph: Dixie Sheridan
5 Lesbians Eating a Quiche
5/5
Photograph: Dixie Sheridan
5 Lesbians Eating a Quiche
Chicago Commercial Collective at Chopin Theatre. By Andrew Hobgood and Evan Linder. Directed by Sarah Gitenstein. With ensemble cast. Running time: 1hr 15mins; no intermission.
Theater review by Dan Jakes
Think apple pie is the most wholesome American dish? A handful of lesbians—beg pardon, "widows"—at the Susan B. Anthony Society for the Sisters of Gertrude Stein would politely disagree. But aw, shucks, they'll do it with such an open heart and a welcoming smile that it would be impossible to turn down their invitation to be made an honorary member of the club, name tag and gender reassignment included, and, if it were offered, a bite of the lukewarm gelatinous breakfast tart with which they're so obsessed.

Andrew Hobgood and Evan Linder's outlandish comedy started as a ten-minute New Colony sketch for Collaboraction's Sketchbook Festival in 2010, and it feels like it. In fact, it's no surprise they started with the provocative title (on the same great level of poster-intrigue as Stephen Adly Guirgis' The Motherfucker with the Hat) and worked backwards. Set in a community center in 1956, five women (Kate Carson-Groner, Caitlin Chuckta, Rachel Farmer, Megan Johns and Thea Lux) gather to lead the organization's annual quiche breakfast. Sure, there's a litany of queer closet jokes, but Hobgood and Linder seem less amused by genital metaphors (though they are, and share it well) than they are seeing a group of women try to preserve Norman Rockwell innocence in circumstances that tumble from cautious to apocalyptic.

It's all delightfully weird, as is Chuckta as the most modest debutante of the bunch. The whole ensemble is a joy, really, and Carson-Groner gets a stand-out moment in an extended, multi-character monologue. Director Sarah Gitenstein keeps things bright and zippy, and the whole thing floats on audience buzz and a Christopher Durang–type indulgence in non sequiturs.

This fleshed out 75-minute incarnation, which debuted in 2011 and went on to successful runs at the 2012 New York International Fringe Festival and Off Broadway, is back in town as part of Chicago Commercial Collective's ongoing effort to restage local hits for fresh audiences (here's hoping CCC productions become a spring and summer staple). It would be easy to overread into the longer version—don't. Instead, wash it down with a good mimosa and a hearty appetite for the absurd.