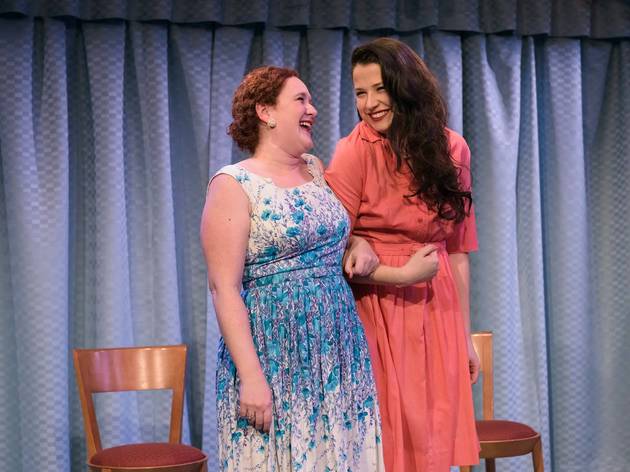 1/6
Photograph: Michael Courier
Born Ready
2/6
Photograph: Michael Courier
Born Ready
3/6
Photograph: Michael Courier
Born Ready
4/6
Photograph: Michael Courier
Born Ready
5/6
Photograph: Michael Courier
Born Ready
6/6
Photograph: Michael Courier
Born Ready
A fading former child star forms an alliance with a fresh-off-the-boat ingenue in Stacie Barra's new play, set in the early days of television.
Audience members expecting Stacie Barra's showbiz melodrama Born Ready to be heavy on Ryan Murphy–style actress-on-actress catfights will instead find a story that is far more genuine and considered in its female relationships. That's not to say the show isn't rife with conflict, or that both the aging child star played by Eleanor Katz and the literally-right-off-the-bus ingénue played by Clara Byczkowski do not have secret agendas and selfish ends.
But it does mean that the show, for the most part, plays these moments incredibly straight. Their relationship is complicated, yes, and melodramatic for sure, but the characters are afforded a very humane (and refreshing) level of respect. Pretty nice for a show that, at first glance, comes off as nothing more than a fun genre riff.
The play, directed by Wm. Bullion, takes place during the early days of television, and it begins on the set of a variety show hosted by Marion (Katz), an actress whose comedic talent is matched only by her proficiency with booze. Despite the best efforts of her (secret) boyfriend, the show's stage manager, Sam (Timothy C. Amos), to keep her on the straight and narrow, Marion's in danger of being canceled by network exec Byron (Tim Newell). When the show's new dancer, Harriet (Byczkowski), manages to befriend Marion one lonely night, things start to turn around. New skits featuring the two of them are added, the ratings pick up and Harriet goes from bit player to co-star in what seems like an instant.
And then, when Harriet announces that she's getting her own sitcom, it seems as though the show is going to go down a familiar path… only it doesn't. Discerning audience members might be able to figure out Harriet's "big secret" early on, but the trajectory it sets the two characters down in the play's second act is still an intriguing one—although Bullion, whose work is solid throughout, bungles a key reveal late in the show that creates confusion during a moment of what is supposed to be great clarity.
The biggest problem with the show, however, is that the seriousness and care with which it treats Harriet and Marion's relationship is constantly bookended by scenes of broad, winking farce—mostly in the form of fake commercials performed (with charming gusto, it must be said) by the show's announcer, played by Eric Roach. Constant jokes about how repressed and primitive the 1950s were—many of which are quite funny—create an odd dissonance with all the scenes where the lives of these 1950s women are treated with complete sincerity.
These sillier moments, of course, are what really make the play feel like a Factory Theater show: a signal to the audience that the play doesn't take itself too seriously. And it doesn't. On the contrary; it takes itself just the right amount of seriously. That's why these moments of "house style" feel so intrusive and jarring. The story, to be perfectly frank, is too mature for them.
Factory Theater. By Stacie Barra. Directed by Wm. Bullion. With ensemble cast.