1/7
Photograph: Evan Hanover
Will Allan in Circumference of a Squirrel at Greenhouse Theater Center
2/7
Photograph: Evan Hanover
Will Allan in Circumference of a Squirrel at Greenhouse Theater Center
3/7
Photograph: Evan Hanover
Will Allan in Circumference of a Squirrel at Greenhouse Theater Center
4/7
Photograph: Evan Hanover
Will Allan in Circumference of a Squirrel at Greenhouse Theater Center
5/7
Photograph: Evan Hanover
Will Allan in Circumference of a Squirrel at Greenhouse Theater Center
6/7
Photograph: Evan Hanover
Will Allan in Circumference of a Squirrel at Greenhouse Theater Center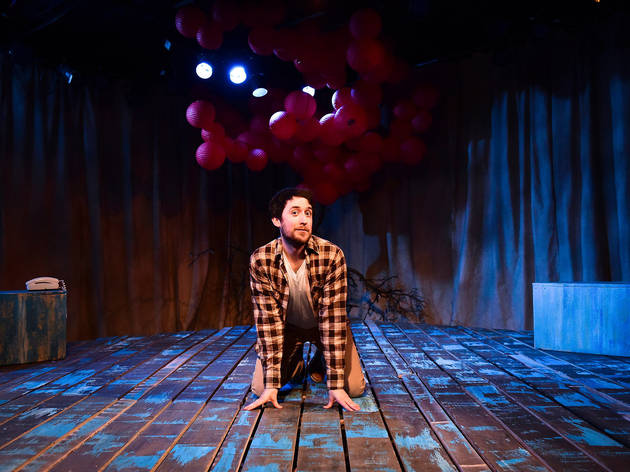 7/7
Photograph: Evan Hanover
Will Allan in Circumference of a Squirrel at Greenhouse Theater Center
Will Allan cuts a squirrelish figure as a dude with dad issues in this solo play.
With a title that's somewhere between fantastic and terrible, the one-man play Circumference of a Squirrel never quite lives up to the strangeness that name promises. Despite a winning, heartfelt performance from actor Will Allan and a fine, if not entirely remarkable, staging by director Jacob Harvey, it's really the play itself that never quite matches up. Written by John Walch, this story of a man's complicated relationship with his anti-Semitic father can too often feel like a freshman-level course called White Dude Catharsis 101.
Two things from the title that it does deliver on though are a) circumferences and b) squirrels. The first comes in the form of the recurring circular imagery found in the life of the show's protagonist, Chester, a divorced sort-of-grad-student, currently taking a "leave of absence" from his studies in microbiology. Look out for a bagel, a tire swing, an inner tube, several homemade wreaths, donuts, washers, an all-important pack of Wint-O-Green Lifesavers—it's almost as though Chester is a character in a play that wants to telegraph some things to its audience.
As for the squirrels, well, Chester identifies as a "rodentophobe," mostly because he is absolutely scarred from having been forced to murder scores of squirrels as a child. The reason? His father's unadulterated hatred for the things, an enmity so fierce and psychotic that it made his father's anti-Semitism, quite awful in its own right, seem relatively tame by comparison. At least until Chester brings his Jewish girlfriend, Darla, home to Missouri for Christmas, and has to decide whether to face his father's bigotry head on.
Allan's performance as not only Chester but a whole host of additional characters is quite marvelous. Walch's script requires a broad range and quick transitions—from farce to tragedy and back again in a flash—and Allan is able to turn those emotional corners on a dime. He's also, at some very basic level, simply the kind of actor with whom it is pleasant to spend time with as an audience member, a quality that's all too easily overlooked. Even when Chester is at his most self-loathing and miserable, Allan himself remains fine company.
Greenhouse Theater Center. By John Walch. Directed by Jacob Harvey. With Will Allan. Running time: 1hr 15mins; no intermission.