Cold Cold Feet at Diamante Productions | Theater review
Lively performances cover over the cracks in Tony Fiorentino's wedding-jitters farce.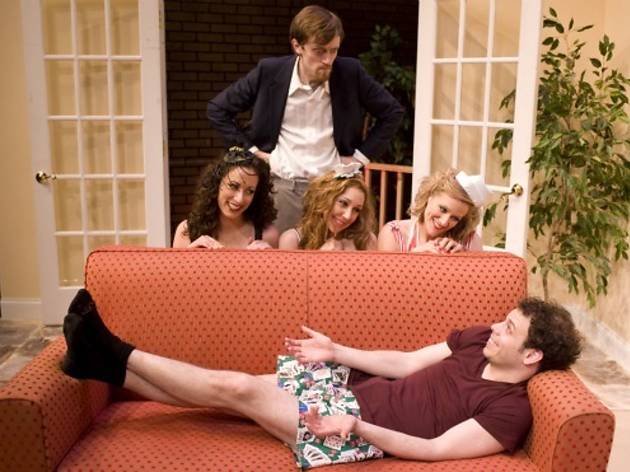 Fiorentino's madcap farce (a remount of a 2006 production) takes place in a Las Vegas hotel suite on the night before the '80s-themed nuptials of groom-to-be Benny and his domineering fiancée. What gets the ball rolling and the doors slamming is the arrival of three strippers who show up a day late for the previous night's bachelor party, yet refuse to leave until paid—a demand enforced by their thuggish bodyguard. While Benny and his harried best man try to come up with the cash, they have to hide the scantily clad trio from the parade of bridal party members streaming into the room to find out why the groom isn't at the wedding rehearsal downstairs. This prompts the usual blizzard of lies, misunderstandings and double entendres.
Fiorentino eventually brings things to a satisfying conclusion, but on the way there, he fails to maintain a consistent sense of mounting panic, occasionally repeating bits or letting the action idle while he strains to find a reason to keep characters in the suite. This lag time gives the audience a chance to think, which of course is fatal in farce. Without a steadily driving momentum, after all, there's nothing to distract us from noticing that the characters are dumb as posts. Fortunately, the cast's crisp performances avoid shrillness and even, on occasion, transcend stereotype. This is especially impressive in the women, whose parts as written don't stray far from the bimbo/ballbuster dichotomy.