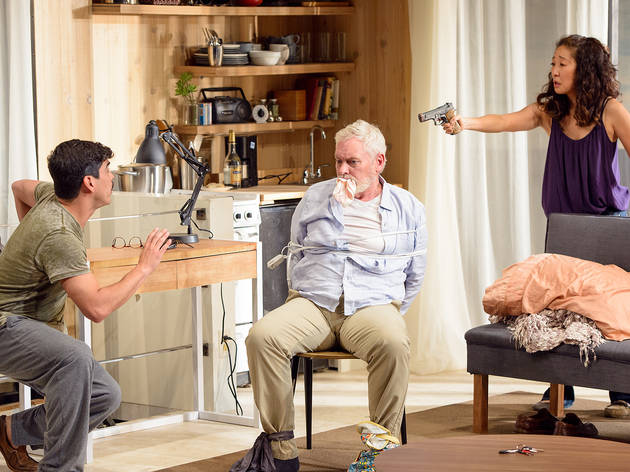 1/5
Photograph: Michael Courier
Death and the Maiden at Victory Gardens Theater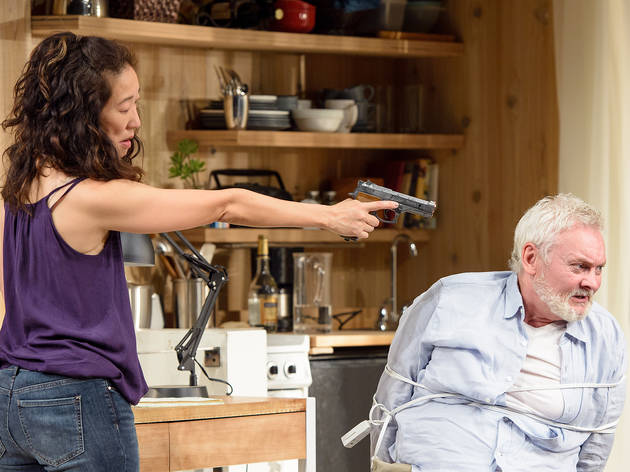 2/5
Photograph: Michael Courier
Death and the Maiden at Victory Gardens Theater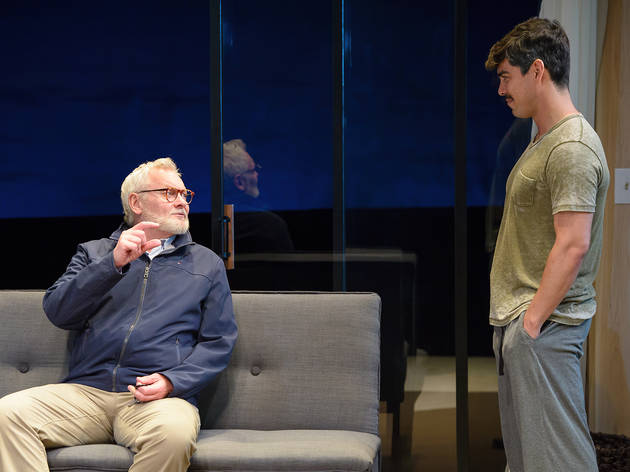 3/5
Photograph: Michael Courier
Death and the Maiden at Victory Gardens Theater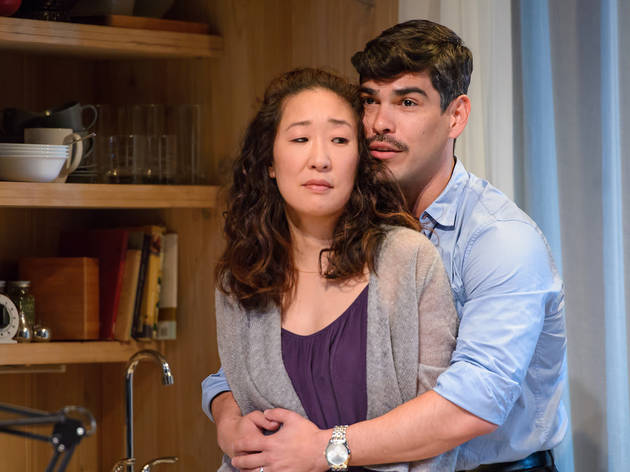 4/5
Photograph: Michael Courier
Death and the Maiden at Victory Gardens Theater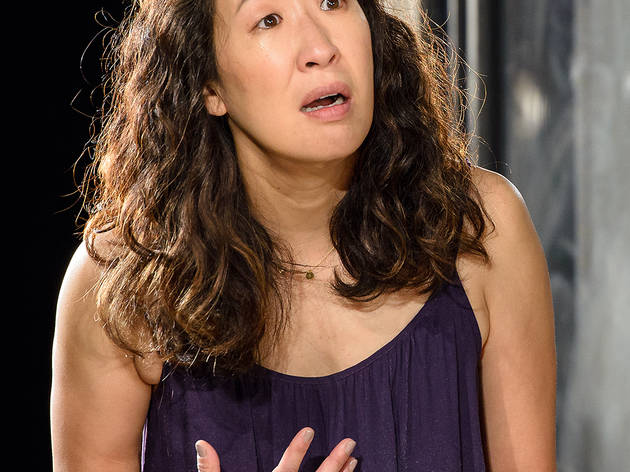 5/5
Photograph: Michael Courier
Death and the Maiden at Victory Gardens Theater
Victory Gardens Theater. By Ariel Dorfman. Directed by Chay Yew. With Sandra Oh, Raúl Castillo, John Judd. Running time: 1hr 40mins; no intermission.

Theater review by Kris Vire

The Chilean author Ariel Dorfman's 1991 work comes with all sorts of political trappings, what with its setting in a non-specific country that's newly democratized after a long military dictatorship. But where it does get specific is, as previous reviewers have noted, as schematic a suspense thriller as something by Agatha Christie.

A decade and a half before the play's action, Paulina (Sandra Oh) spent a harrowing two months being tortured and raped as a political prisoner of the ruling regime, before being released to reunite with her love, the human-rights lawyer Gerardo (Raúl Castillo).

Now, 15 years on, Paulina is still timid and shell-shocked—up until the moment she hears the voice of a doctor (John Judd) who stopped to help her husband on the side of the road. Convinced this Dr. Miranda is the same man who tormented her in captivity, something erupts in Paulina, who knocks him out and takes him hostage, intent on putting him on private trial at the isolated beach house she and Gerardo share.

Chay Yew's production is visually impressive, with scenic designer William Boles providing a small house on a rotating turntable that efficiently offers the necessary multiple playing spaces and effectively makes compelling practical use of, for instance, the extended sequence in which Paulina ties up her hostage.

Yet the three-person cast feels unbalanced (and not in the way that the panicking Miranda characterizes Paulina's mental state). Oh, coming off her decade-long, Golden Globe–winning stint on Grey's Anatomy, provides the star power, and she demonstrates a palpable stage presence, even if she doesn't fully sell Paulina's sudden empowerment.

But she's poorly matched to her partners. Castillo, though one of the breakout highlights of HBO's Looking earlier this year, reads as too mealy-mouthed and low-key to be in line for a star appointment to a presidential commission, as Gerardo supposedly is. And he reads far too young to have been an important resistance lawyer 15 years earlier; furthermore, he doesn't provide a persuasive enough motivation for his character to go along with his wife's unhinged half-plan. Judd, as fine and confident an actor as he is, seems to get most tripped up by Dorfman's often clunky language.

Dorfman's 23-year-old piece asks a number of questions about the pros and cons of what we might now call "enhanced interrogation" that remain all too relevant, and the playwright leaves the outcome admirably open to interpretation. But it requires contrivance after contrivance to get there.