Fifth of July at Infamous Commonwealth Theatre | Theater review
Lanford Wilson's 1978 portrait of America on the morning after gets a sensitive, plainspoken revival.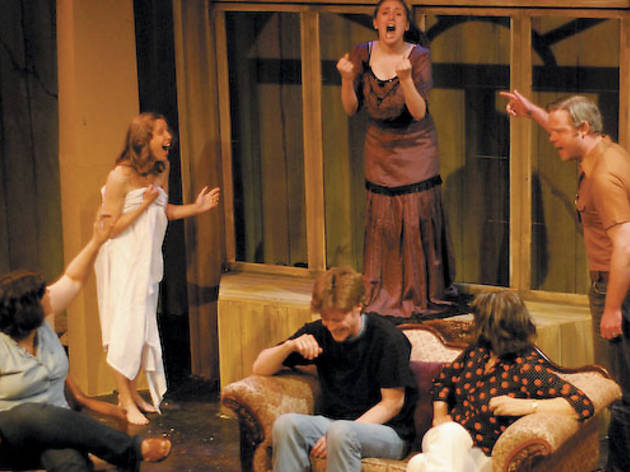 The late Wilson turned from the urban underworlds that made him an Off Broadway pioneer to his native Missouri for this 1978 meditation on the wreckage of '60s idealism. Anticipating The Return of the Secaucus Seven and The Big Chill, Wilson reunites four Berkeley classmates to discover who's sold out and who's pickled in bitterness, with splashes of local color provided mainly by Sally Friedman (Joanna Riopelle), aunt to disabled Vietnam vet Kenneth Talley (Stephen Dunn). Thirty-some years later, neither protest memories nor the rise of a new generation personified by narcissistic Shirley Talley (Glynis Gilio)—who at one point proclaims the future "Me, me, me!"—carry the revelatory charge they may have once had; the abiding interest of Wilson's story lies rather in the shifting fabric of relationships that it depicts, and particularly the troubled love of Ken and Jed Jenkins (Billy Fenderson), shadowed by Ken's furiously ambivalent connection to his family home.
Morgan's production doesn't really dig up new insights into this sprawling blend of Altman and Chekhov; instead, we get a plainspoken revival of a major American play. Not everyone in the cast has fully settled into the rhythms of Wilson's speech, a sometimes awkward blend of hipspeak and lyricism. Roy Gonzalez as session guitarist Wes brings a fine, absurd humor to a bizarre Alaskan folktale, while Dunn's fierce, sensitive performance as Ken Talley is this Fifth of July's emotional core.