Fucking A at UrbanTheater Company | Theater review
The red letter stands for abortionist in Suzan-Lori Parks's second resetting of Hester Prynne.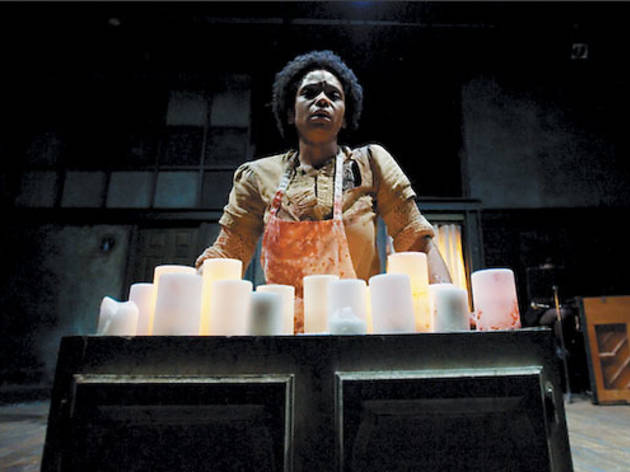 Beyond the A branded on the central character's chest, there are few overt similarities between Suzan-Lori Parks's 2000 drama and the 1850 novel that inspired it. Not to be confused with In the Blood, Parks's other reimagining of The Scarlet Letter, Fucking A replaces Hester Prynne, the adulteress, with Hester Smith, the abortionist (Kelly Owens). Set in an urban environment where women's bodies are discussed in a foreign language, the play situates the Puritan legalism present in Nathaniel Hawthorne's work in a more barbaric world. Hester's letter puts her at the bottom of the social ladder, and she struggles to survive despite providing a service in high demand.
As Hester tries to reunite with her unjustly imprisoned son, Parks examines the various forms of compassion a mother has for her children, surviving or not. In a stirring central performance, Owens portrays a vulnerable, exhausted woman who's fiercely devoted to finding her son. Her heartfelt relationships with hooker confidante Canary Mary (Lyndsay Rose Kane) and the town Butcher (a tender Madrid St. Angelo) help alleviate the pain of Hester's perpetually tortured existence, and bring some joy to the grim script.
Parks's Brechtian use of music is exemplified by a trio sung by three newly freed prisoners in Act II. But as the plot's intensity builds, the songs interrupt the play's momentum. When escaped convict Monster (Lance Newton) breaks into song while running for his life, the scene's energy dissipates; it's as if the music is perfectly timed to ruin the play's tense final moments.