Her Naked Skin at Shattered Globe Theatre | Theater review
Rebecca Lenkiewicz's unfocused suffragette drama works too hard for our vote.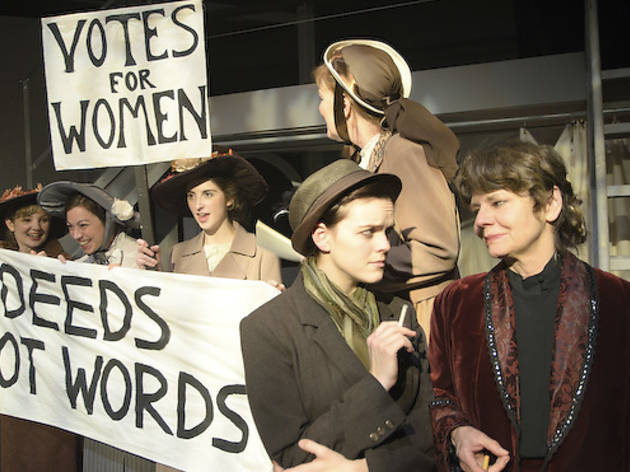 Set amid the women's suffrage movement in early-20th-century England, British playwright Rebecca Lenkiewicz's clunky 2008 drama tries to cover the ground of three or four plays. There's the historical work dramatizing the movement: The play's first scene references real-life feminist Emily Wilding Davison, who became a martyr for suffrage by throwing herself in front of the king's horse. Other characters also represent historical figures—though you'd be hard-pressed to pick that up from Lenkiewicz's perfunctory treatment.
The playwright is more interested in the goings-on inside Holloway Prison, where suffragettes arrested for protest actions cycled in and out. The forced feeding of hunger-striking prisoners could sustain a narrative all its own. But it, too, is just a side note here. Lenkiewicz homes in on a pair of fictional women: Lady Celia Cane, a restless upper-class gentlewoman, and lower-class machinist Eve Douglas. Already turned on by her rebellion against societal constraints, Celia is inevitably tempted by the transgressive iniquity of a romance with Eve.
Sheila O'Connor is appealingly doe-eyed as Eve, but it's tough to get invested in the outcome of her relationship with Linda Reiter's Celia, who speaks in haughty aphorisms and comes across as awfully stuck-up for a libertine. Like Lenkiewicz's script, Roger Smart's production tries to cram too much into a limited space—18 actors on Andrew Hildner's cramped bilevel set. Among them, Melissa Riemer stands out as saucy organizer Florence Boorman. Let's see a play about her.