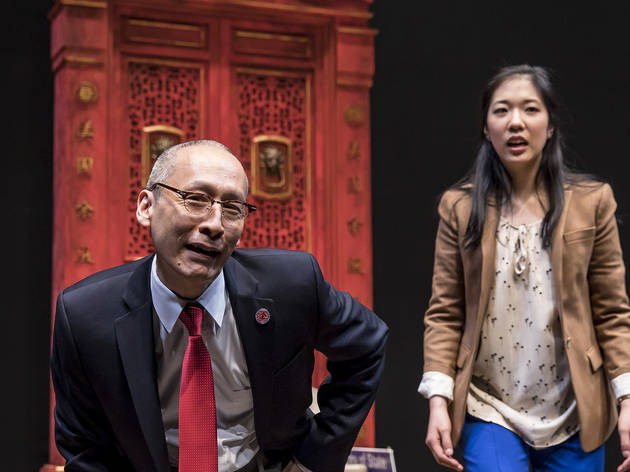 1/12
Photograph: Liz Lauren
2/12
Photograph: Liz Lauren
3/12
Photograph: Liz Lauren
4/12
Photograph: Liz Lauren
5/12
Photograph: Liz Lauren
6/12
Photograph: Liz Lauren
7/12
Photograph: Liz Lauren
8/12
Photograph: Liz Lauren
9/12
Photograph: Liz Lauren
10/12
Photograph: Liz Lauren
11/12
Photograph: Liz Lauren
12/12
Photograph: Liz Lauren
This new work from playwright Lauren Yee is inspired by her family and others who share her surname in San Francisco's large Chinese-American community.
Up-and-coming satirical playwright Lauren Yee turns her eye on her own family and ancestry with this wry, metatheatrical take on the Yee family line and what it means to come from immigrants. The production seems to begin with a dialogue between Lauren and her father, Larry, but it's quickly crashed by the actual Larry (Francis Jue, not the actual Larry), who's confronted by the frustrated Lauren (Stephenie Soohyun Park, not the actual Lauren). The actors (Angela Lin and Daniel Smith) take five backstage, where we hear them get real about what it's like to be Asian-American performers often called to audition for generically "Asian" roles.
Meanwhile, Larry and (reluctantly) Lauren school us on what it's like to be a Yee in the San Francisco Bay Area, where Larry lobbys for other Yees in local politics. When a Yee runs into political scandal, Lauren goes searching for her identity and her father.
What follows is a gripping, if truncated, look at a writer grappling with her identity as a thing that could be boiled down to a series of puzzle games. Yee's journey is indicative of the range of stories this nation holds.
Goodman Theatre. By Lauren Yee. Directed by Joshua Kahan Brody. With Stephenie Soohyun Park, Francis Jue, Rammel Chan, Angela Lin, Daniel Smith. Running time: 2hrs 15mins; one intermission.