Heads up! We're working hard to be accurate – but these are unusual times, so please always check before heading out.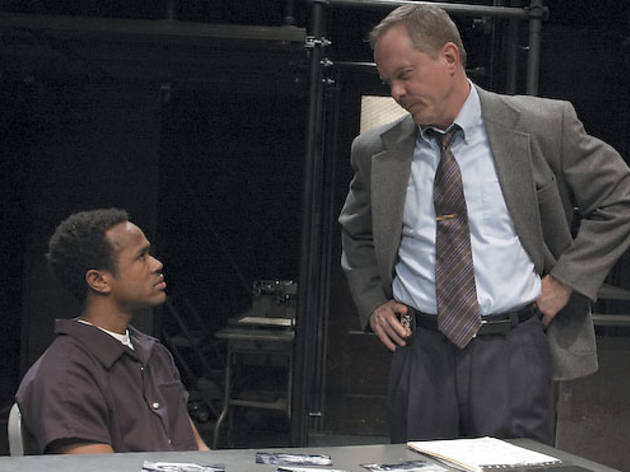 My Kind of Town at TimeLine Theatre Company | Theater review
Former Chicago Reader staffer John Conroy dramatizes his extensive reporting on the police-torture scandal.
In response to growing public outrage aimed at accused corrupt police Cmdr. Jon Burge, Chicago Tribune columnist Mike Royko urged concerned citizens in 1992 to "get a life." Opposite that insidious bit of advice, journalist John Conroy fortunately devoted decades to shining light on injustice within the CPD. Beginning with his 1990 article "House of Screams" in the Chicago Reader, Conroy has been instrumental in bringing attention to the hundreds of interrogation victims cattle prodded, cigar burned and suffocated during Burge's reign. Two decades later, with Burge finally behind bars for perjury and obstruction of justice, Conroy is still at it, aiming to provoke discussion with a fictionalized account of his findings.
Loosely following the narrative of real-life wrongfully accused arsonist Madison Hobley, a young black man on death row (Charles Gardner), coerced into a confession by a detective (David Parkes), awaits a hearing after his case is reopened. Strong performances by A.C. Smith and Maggie Kettering supply balance to Conroy's agitprop narrative, and director Nick Bowling's industrial touches reinforce a sense of Chicago authenticity. My Kind of Town is an important play, one that successfully depicts the complicated ecosystem in which men and women who've sworn to serve and protect the citizenry can become its greatest oppressors. But as the intended conversation starter, Conroy's characters lack the clear motivations to achieve his goal to provoke and upset. The thoughtfulness is here; the agitation isn't.