New Leaf Theatre's Chicago Park District home
New Leaf finds its home in a unique park district space.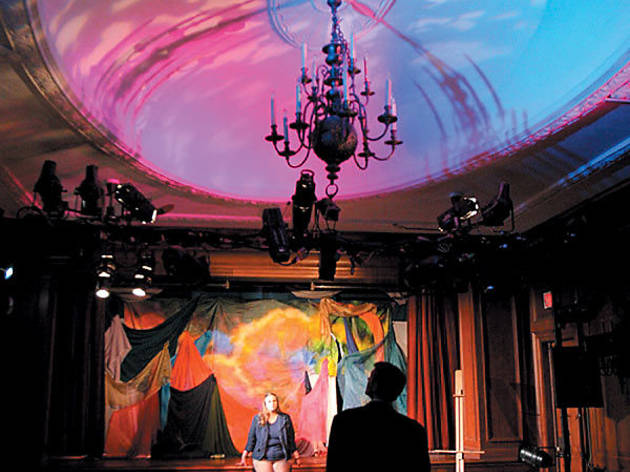 The oak-paneled walls of New Leaf's resident space in the 1926 Colonial Revival–style Lincoln Park Cultural Center (just west of the zoo, close enough to hear the hyenas howling) are pretty majestic. It's hard to take in the small auditorium's rich architectural detailing and old-school opulence, with its wall sconces, fireplace and crystal chandelier hanging from a domed ceiling, and not think, This is a storefront theater?

The space doesn't define New Leaf. In recent seasons, the seven-year-old company—led by artistic director Jessica Hutchinson and including designers Jared Moore, Nick and Marni Keenan and Michelle Lilly O'Brien and actors Harman and Kyra Lewandowski—has been quietly but consistently rising to the top of the storefront crop. The group's penchant for searing, precise stagings of interesting script choices (ranging from Chicago premieres by under-the-radar young playwrights to chestnuts that conventional wisdom might consider out of favor) would be worth noting in any venue.

But the LPCC residency certainly informs New Leaf's work. "You can't talk about the company and not talk about the space," Lewandowski says.

The arrangement with the Chicago Park District dates back farther than any of New Leaf's members. Unlike many of their peer companies of twenty- and thirtysomethings, the Leafers came together not as college buddies—the current seven have degrees from small schools around the country—but as theater professionals in Chicago. (The group's founders, who included Bill Hyland, Lisa Baney and inaugural artistic director Brandon Ray, have all moved on.)

After New Leaf staged its first full production, John Patrick Shanley's The Dreamer Examines His Pillow, at the LPCC in September 2001, cultural center director Cindy Jahraus invited the company to stay. That arrangement comes with plenty of perks that would make similar-size theater companies drool. The troupe gets to rehearse free of charge in the same space in which it performs. Sound designer Nick Keenan, who joined in 2003 with wife Marni (along with Moore, they're the company's elder members), notes that "you can't beat the rent." Instead of a flat fee, the CPD asks for a percentage of the box-office take. "It's why we can take risks," Hutchinson says. Harman (who doubles as business manager) points out, "We're in better financial shape than theaters who have more money than us."

There are drawbacks, too. Some are technical, which the group rattles off between mouthfuls of curry fries: no screwing scenery into the walls or floor, no painting the walls or floor, the set must be strikable every night, and (recited in near-unison) "we can't take down the chandelier."

Other "peccadilloes," as Hutchinson terms them, are practical in different ways. Like the neighbors.

The LPCC is a park district facility, after all, and New Leaf is not its only tenant. At any given time, during rehearsals or performances, the company might be competing with the wood shop upstairs, the teen night in which foosball games invade the erstwhile New Leaf dressing rooms or tiny ballerinas squealing happily through the halls after classes.

Time is of the essence as well. Even tech rehearsal must end at 10pm (or as Marni Keenan puts it, "What do you mean we can't stay all night to paint the set?"). But New Leaf has turned that to its advantage by integrating all elements of the rehearsal process. Rather than having designers come in for the last week of rehearsal (standard practice for most theaters), everyone's around for the whole shebang. "The constraints force us to be more disciplined, because staying till three in the morning is not an option," says Hutchinson, chosen as artistic director soon after joining in 2007.

As it's warmed to those constraints, New Leaf has adapted to the space's potential by moving away from the room's tiny stage and down onto its floor for intimate, in-the-round stagings of plays that, like its 2007 revival of the WASPish The Dining Room or last fall's American-family portrait Six Years, regard that imposing dark-wood milieu as an accent rather than a hindrance.

"We're getting better and better at taking a play we love and finding a way to do it there. It's how the space has made us grow," Hutchinson says, to which Nick Keenan responds, "It's found-space work where the space has already been found."

"That's right!" Hutchinson says, refilling her glass. "We done found the space."

New Leaf's latest production, Toni Press-Coffman's Touch, is currently running.