New Year's Eve 2011 events | Theater
Five theater things to do this NYE: Changes of Heart, Million Dollar Quartet, E. Faye Butler, Striking 12 and Too Much Light.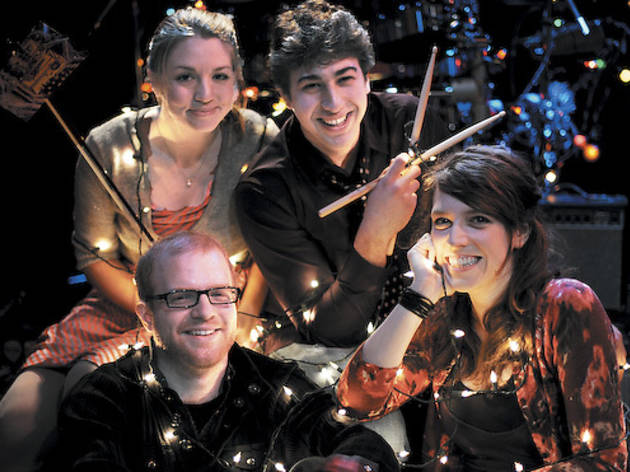 Changes of Heart
The New Year's Eve performance of Marivaux's unromantic romcom includes a postshow Champagne toast and dessert reception with the cast. Remy Bumppo Theatre Company at Greenhouse Theatre Center, 2257 N Lincoln Ave (773-404-7336, remybumppo.org). 7:30pm. $75.
Million Dollar Quartet
The long-running jukeboxer, which imagines the real-life day that Elvis Presley, Johnny Cash, Carl Perkins and Jerry Lee Lewis had a jam session at Memphis's Sun Studios, just entered its fourth year at the Apollo. The NYE performances tack on a rockin' rendition of "Auld Lang Syne" with a postshow toast. Apollo Theater, 2540 N Lincoln Ave (773-935-6100, milliondollarquartetlive.com). 6, 9pm. $75–$80.
New Year's Eve with E. Faye Butler
Chicago diva Butler, the star of Northlight's upcoming Black Pearl Sings!, returns for her third annual New Year's Eve concert with selections ranging from jazz and blues to pop and show tunes. Northlight Theatre, North Shore Center for the Performing Arts, 9501 Skokie Blvd, Skokie (847-673-6300, northlight.org). 5, 8pm. $50–$60.
Striking 12
Light on schlock and heavy on charm, BoHo's tiny rock-musical retelling of "The Little Match Girl" is this year's only holiday production that's actually set on the final night of the year. Bohemian Theatre Ensemble at Heartland Studio Theatre, 7016 N Glenwood Ave (866-811-4111, bohotheatre.com). 8pm. $30.
Too Much Light Makes the Baby Go Blind
Join the Neo-Futurists for a preshow party with hors d'oeuvres and nonalcoholic bevvies (doors open at 9:30pm). Stay after the show for a New Year's toast and the traditional Too Much Light pizza. Unlike at most TMLMTBGB performances, advance reservations are required. Neo-Futurarium, 5153 N Ashland Ave (773-275-5255, neofuturists.org). 11pm. $50.