Orange Orbs at Tympanic Theatre Company | Theater review
Tympanic tries to play it spooky-straight with a slasher tale.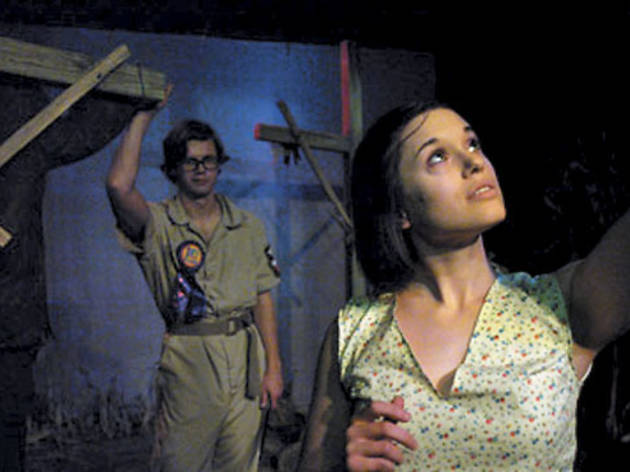 Like sci-fi, horror stories require a special type of finagling to achieve impact onstage. The closest you'll typically see in the theater are thrillers—horror's PG-13 cousin. Playwrights such as Martin McDonagh and (occasionally) Caryl Churchill come close to overcoming the medium's limitations bysteering focus away from spectacle and toward more economical tensions like imagined threatsand visceral, reality-based uncertainties. Tympanic Theatre Company attempts to buck that convention with an unapologetic monster story.
An innocent Halloween night spent trying to get high off oregano in a cornfield turns sinister for teenage buddies Derry (Aaron Dean) and Max (Casey Bentley) when they make the disturbing discovery of a crying infant in a hollowed-out pumpkin. While carrying the child to local police, the two are confronted by a sickle-handed jack-o'-lantern (Justin Warren). After unhanding the infant, Max and Derry set out to save Baby Pumpkin with the help of a friendly ghost (Amy Dellagiarino). Save some ventures into coming-of-age themes—even amid paranormal chaos, Derry apparently wants to get laid—playwright Daniel Caffrey sticks to cinematic horror norms and aims for an unironic experience. The trouble is that spooky nursery rhymes and monster chases are old hat even onscreen; carried out with a limited budget in Oracle Theatre's intimate space, they're plain silly.