Pig Tale at MidTangent Productions | Theater review
LGBTQ collective MidTangent stages a parable inside a fairy tale about a man turned pig.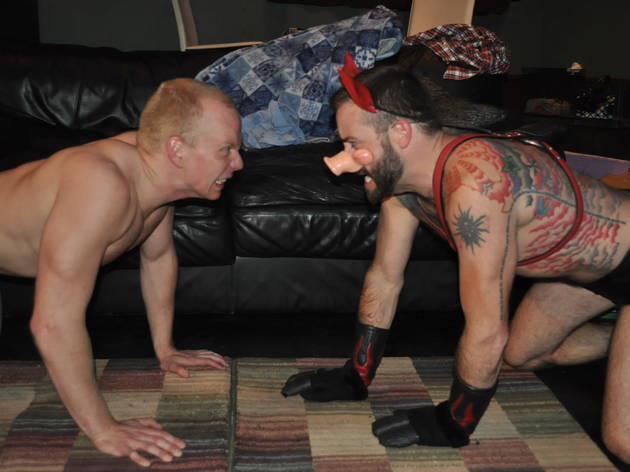 Moving in with someone you're dating requires a period of adjustment, especially when that someone speaks only in grunts, demands endless replays of My Fair Lady and sprouts a curly tail. Though the lovers in question enjoy a bit of role-playing and the company is the LGBTQ collective MidTangent, Pig Tale is not the story of a slutty boy who's up for anything. Instead, it's a parable inside a fairy tale: For self-centered Johnny (Tony Lewis) to learn to cherish the accommodating Dave (Andrew Kain Miller), Dave's shapely extremities must first be turned into ham hocks.
That means Miller spends nearly all of the play's 75 minutes rooting for nibbles, snuggling in Johnny's bed like a porcine Afghan hound and gesturing toward Johnny's neglected sketchbook with his snout. He does this with commendable poise, and his tattooed form makes for a handsome hog. Still, as the lovelorn and enchanted beast, Dave seems the more compelling of the two, but we don't get to hear his story. We do get a running commentary on the psychological-mythical action, thanks to humdrum dialogue and ancillary characters with little purpose other than to scour Bruno Bettelheim for clues to the quandary or to strike familiar drag-queen poses. Despite this ornamental parsley, there's real feeling in Johnny and Dave's breakthroughs in human-pig communication. The meaty moral: Love transforms the lover, and second chances are sweet indeed.