Pine Box Theatre returns after three-year hiatus
The debut of Joshua Rollins's A Girl with Sun in Her Eyes marks Pine Box's return.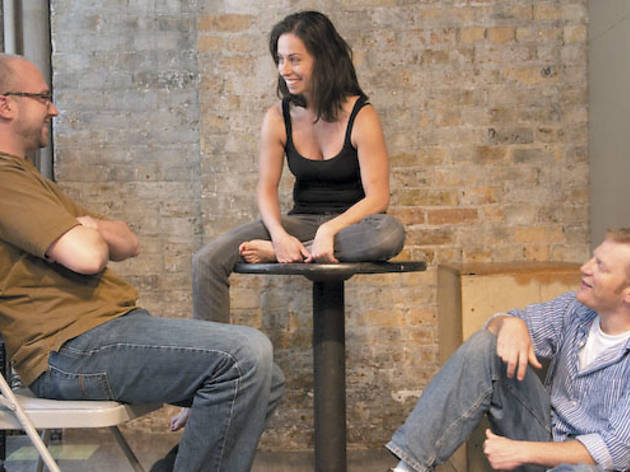 When I [node:53263 link=last spoke with members of Pine Box Theatre;], in the fall of 2007, the then three-year-old company was mounting its first original work (Egan Reich's Sierra Leone–set The Most Liquid Currency in the World) and pondering its future. After producing shows such as Life and Limb, This Is Our Youth and Hot 'N' Throbbing on a one-at-a-time basis, Pine Box had announced its first two-show season.
It ended up being the first and last. "We started Pine Box because none of us could get work and we all really liked to work together," says Audrey Francis, one of the 2004 School at Steppenwolf grads who formed the company. "For three years, we worked together as a vehicle to try to get careers started for ourselves. Then that happened."
"Everyone had their own successes and were going in their own directions," adds original member Vince Teninty. "It was tough to keep us together while that was happening." After 2008's NEED/Hedges 3, the company went on hiatus.
Pine Box returns to the boards this week in a big way. The theater reemerges with Teninty taking over artistic director duties previously shared by Francis and Anne Adams; its calling card is the world premiere of Joshua Rollins's A Girl with Sun in Her Eyes, helmed by This Is Our Youth director Matt Miller. It's the company's first production under an Actors' Equity contract; in addition to Francis and Teninty, the cast includes heavy hitters Karen Aldridge and Steve Pickering alongside newcomers Sean Parris and Lucy Sandy.
Post-rehearsal on a recent afternoon at River North's Acting Studio, Teninty says he'd been thinking about ways to revive Pine Box when "Matt showed up and put this script in my lap. Six short months later, we're opening the show."
"I read a lot of scripts, and there's just a magnetism to this script that pulls you through it," Miller says of Rollins's police procedural, about an undercover cop gone missing on the South Side. "When I started sharing it with actors—well, I think it's a hallmark of a good play when actors are getting back to you immediately after reading it and saying, 'Yes, I want to do this!' "
Rollins is himself primarily known as an actor (last seen onstage in Suicide, Incorporated at the Gift Theatre). Girl marks his first full-length production in Chicago.
A later graduate of the School at Steppenwolf, he had Francis as an instructor there and told Miller he'd had her in mind for the character of Lucy. "[Miller] was like, 'Funnily enough, I'm talking to Vince in a couple of days about Pine Box,' " Rollins recalls. "I said, 'I love Pine Box, where have they been?' He said, 'We'll find out.' "
"What made us lovely and endearing in the beginning was probably also the reason we all separated," Francis says. "But now we have one boss, one vision; we have business people involved where before it was a bunch of drunk actors. I think we have a better chance after the hiatus than we ever did before."
A Girl with Sun in Her Eyes opens Thursday 30 at the Second Stage.