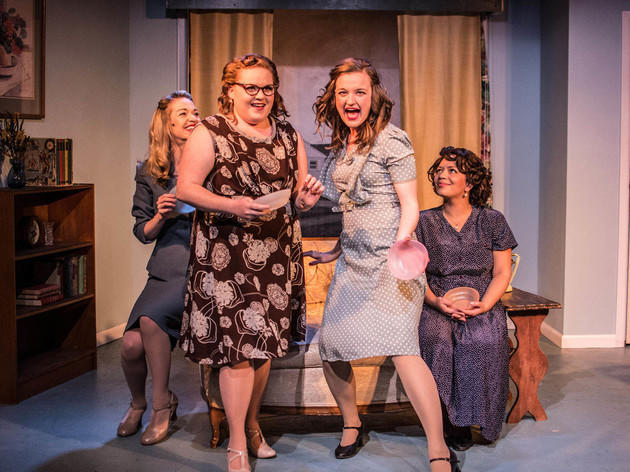 1/5
Photograph: Ryan Bourque
Plastic Revolution at the New Colony
2/5
Photograph: Ryan Bourque
Plastic Revolution at the New Colony
3/5
Photograph: Ryan Bourque
Plastic Revolution at the New Colony
4/5
Photograph: Ryan Bourque
Plastic Revolution at the New Colony
5/5
Photograph: Ryan Bourque
Plastic Revolution at the New Colony
A high-energy, entertaining musical is an auspicious start to the New Colony's residency at the Den.
I've never seen a theater crowd so amped up before a show. The Den Theatre is the favorite venue of anyone who's been there, and the New Colony produces such consistently creative and entertaining work that "up-and-coming" feels like an insult at this point. The Den has given them a permanent home for their seventh season, and Plastic Revolution is our first chance to see what our new favorite couple is capable of.

The production is a reworking of TNC's 2009 show Tupperware: An American Musical Fable. In 1950s Florida, recently widowed Delores is adrift until the rather eccentric Brownie Wise recruits her to sell the ladies of the neighborhood on a miraculous new convenience: Tupperware. But even as they seduce the garden club, queen bee and homemaker supreme Lilah organizes against this distraction from womanly duties.

The musical's songs are simple, funny affairs that flash rockabilly style and belt passion. They don't have to be memorable, just colorful. "Two Hours", the sweetly staged plea of the housewives for just a little personal time in their days, is the hummable exception that grabs our sympathies and keeps them for the night. But Julie Nichols's score continues when the singing stops to provide a Looney Toons-like comedic beat that plays up the action. It's a testament to the music that it becomes a vital part of the fun. There are a few growing pains in the new space though—the volume on the instruments and mics isn't balanced very well, and can be too soft or loud at odd moments.

This show has an animated quality to it, a Disneyesque melding of distinctive shapes and colors with lovingly rendered characters. Pure white gloves, an abnormally long scarf, and blonde hair so platinum you could mine it are vital symbols of these women. Each actress is physically different from the others, and each marries her performance to her body—to hilarious effect. Husky Gertie (Elise Mayfield) exudes a manic, snarky Southern energy, while the slender, floaty Gladys (Lizzie Schwarzrock) is just doing her best to keep up with a pageant girl's brain, and Kitty (Daeshawna Cook) is just barely containing the rage from her sordid past under her lovely flowered blouse.
And then there's Danny Taylor's Lilah. Writing Lilah as a drag role in the first place was a stroke of genius. It's not played for laughs: It draws positive attention to the flawless femininity and politeness of which she is so proud, and turns the queen-bee cliche into a sympathetic character. Taylor outshines the others in womanhood; he knows the flattering angles at which to hold his head, the best way to fold his hands, and moves with a confidence only the perfect dress can grant.

The New Colony shows up to deliver entertainment. Its productions run on their excitement for their ideas, and Plastic Revolution has an undeniable energy that guarantees its success. And the Den is only going to give the company bigger places to go. We should all be as excited as they are.

The New Colony at the Den Theatre. Book by Will Cavedo and Andrew Hobgood. Lyrics by Hobgood. Music by Julie Nichols. Directed by Evan Linder. With Joshua R. Bartlett, Daeshawna Cook, Elise Mayfield, Lizzie Schwarzrock, Sasha Smith, Danny Taylor and Cassie Thompson. Running time: 1hr 40mins; one intermission.