Profiles Theatre expands into a third venue
As Profiles takes over the former National Pastime space, the company doubles its budget and goes Equity as well.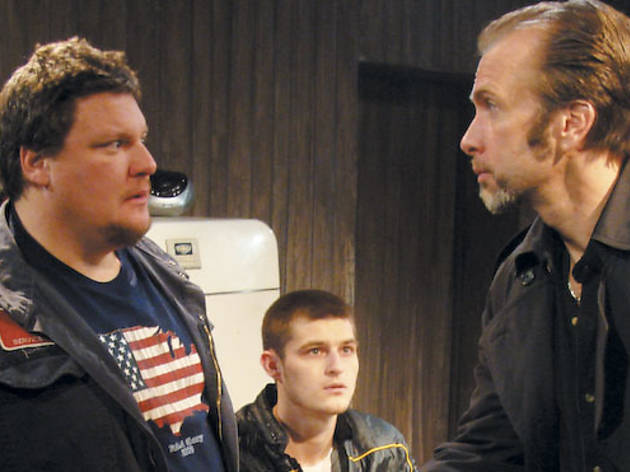 Inside Profiles Theatre's new 99-seat Main Stage, two doors down from its longtime home at 4147 North Broadway, the set for its upcoming U.S. premiere of Neil LaBute's In a Forest, Dark and Deep is under construction. The play's cabin locale offers something audience members rarely see in a Profiles show: a second floor. It's a fitting metaphor for Profiles, which has grown from its humble beginnings operating out of Wilbur Wright College into a storefront institution with three venues.
Founded in 1988 by five alumni of Eastern Illinois University, Profiles has become a Chicago fixture for visceral, provocative dramas, unflinching in its depiction of sex, drugs and violence. It's also one of the few theaters that keeps a show running for as long as it sells tickets, a decision that necessitated the company's expansion.
"We don't want to close a successful show to keep on schedule with subscribers," artistic director and founder Joe Jahraus says during an interview at Main Stage with onstage regular Darrell W. Cox, who was named co–artistic director earlier this year. "We wanted to expand and have a second space."
Jahraus had his eye on the former National Pastime theater since moving Profiles to Buena Park in 1990. When National Pastime artistic director Laurence Bryan chose to leave the location, Profiles snatched it up, beginning its lease in March.
"The great thing about this space," Jahraus says, "is that while it's more seats and is substantially larger, there's still the intimacy of it that we really like. We think the Profiles experience is actors so close you can touch them, and there's still that feeling here." To re-create the experience of its 65-seat Alley Stage (the new name for its existing location), the refurbished Main Stage's seats have been brought closer to the stage.
The larger venue will make possible a wider variety of works. "With this season we're about to announce, there's one play in particular we couldn't produce in the other space," Cox says. That play, Tommy Nohilly's family drama Blood from a Stone, requires a multilevel set. Programming decisions will become increasingly important as Profiles' budget looks to double from its pre-expansion figure, especially with its new status as an Equity theater. (Jahraus declined to give specific budget numbers, but the company's IRS Forms 990 show revenue from ticket sales more than doubled from 2008 to 2009.)
In addition to Main Stage and Alley Stage, Profiles leases the 50-seat Second Stage, a Wrigleyville theater it acquired in 2010. Profiles intended to rent the space, formerly the home of Stage Left Theatre, to other storefront companies. But when the opening of Martin McDonagh's A Behanding in Spokane was delayed last fall by cast member Cox's emergency eye surgery, Profiles shifted its production of Deirdre O'Connor's Assisted Living to Second Stage for a thrice-extended run. The extensions left previously scheduled Second Stage tenant Buzz22 without a venue for its plays Quake and Residue. Though the rental contract stated that Profiles could take back the space if needed, Profiles covered the rate difference for Buzz22's move to Royal George Theatre.
Jahraus and Cox say Profiles is invested in the success of the greater storefront community, which motivates their theater to match and exceed the quality of its competition. "Over the past ten, 15 years, there have been so many companies, and we drove each other to give it everything we had," Cox says. "However you do theater, whatever it is that you do, it drove us."
Now in previews, In a Forest, Dark and Deep opens Thursday 19.

---
Get TOC for iPad: Interact with TOC in a whole new way. Download our new app today for exclusive slideshows, videos, audio clips and more!