Pussy on the House at Hell in a Handbag Productions | Theater review
Jeremy Myers channels Elizabeth Taylor in this delightful camp take on Tennessee Williams.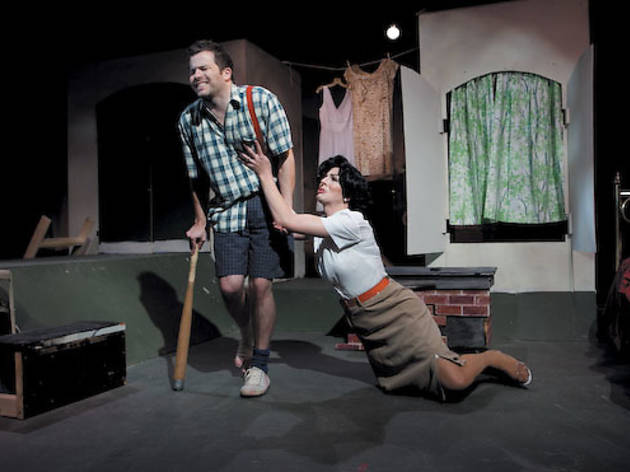 The drag parody Pussy on the House mines the turgid premises of Tennessee Williams's Cat on a Hot Tin Roof with the sheer joy of a summer-camp frolic. In both plays, childish people laud the virtues of parenting while monstrous brats raise the general pitch to 11. In this show, too, Maggie, the cat in heat, begs walled-off Brick to forget his grief for recently deceased best friend Skipper; meanwhile, the head of the family weakens.
Here, though, the kingpin is Big Mama (played with Waters-worthy gravitas by Honey West), with a wig like a great gray toque and a hammy girlfriend (Ed Jones) in tow. Though Eric Lindahl's Brick is wan except in a few animated exchanges, Jeremy Myers, in a wardrobe stolen from Elizabeth Taylor's mausoleum, is astonishing; his slinky, cajoling Maggie transcends cross-dressing and approaches reincarnation. As the hyper-fertile Mae, David Cerda radiates giddy bitchery amid a cast expert in physical comedy, if overly prone to stomach clutching. There are clever script alterations throughout and a few earnest teachable moments, but Landry stays pretty true to the text: Williams's portentous lines, when spoken with a cocked eyebrow and a stuffed bust, serve perfectly as high camp all by themselves.