Skin Tight at Cor Theatre | Theater review
Gary Henderson's heightened portrait of a fraught marriage makes a promising debut for Cor Theatre.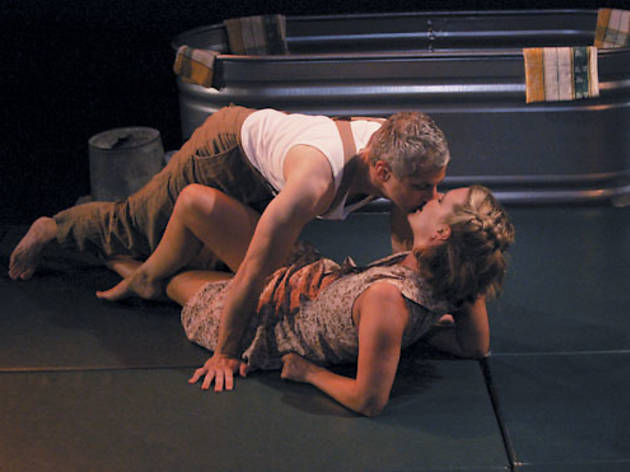 There's a vicious, cheeky little bit of stage work in Cor Theatre's inaugural production that marks an intriguing and promising start for the new company. Alternately flirtatious and resentful, a husband and wife engage in an act of nefarious foreplay: Elizabeth (Tosha Fowler) raises a knife to hubby Tom's (Tony Bozzuto) mouth. In total control with his lips wrapped around the blade, Elizabeth steers his head side to side. She may as well be a surrogate for director Victoria DeIorio, manipulating and toying with her audience, forcing emotional presence with a gesture as sensually provocative as it is confrontational.
New Zealander Gary Henderson's lyrical 1994 one-act aims, with limited success, to capture the mixed blessing that is loving someone so wholly that separation means anguish and the slightest rebuke means betrayal. Through movement and prose, Henderson chronicles a marriage from its first timid, innocent acts of physicality to heart-wrenching separation, touching on the impassioned arguments that complicate it along the way. It's also a showcase for the potential traps of a heightened approach: At 50 minutes, there's little time to build the relationship with Henderson's characters we need to put their joys and miseries in context. Poetry is, in essence, what's left of language when you strip away what isn't absolutely necessary to convey visceral impact. Henderson's storytelling sometimes makes cryptic and heavy what ought to be ethereal. Fowler's and Bozzuto's tender performances, though, cut through the occasional rhetoric. Their moments without speech speak more clearly than any dialogue—and when they laugh, they glow.