Skylight at Court Theatre | Theater review
Former lovers reunite and argue at egregious length in David Hare's talky piece.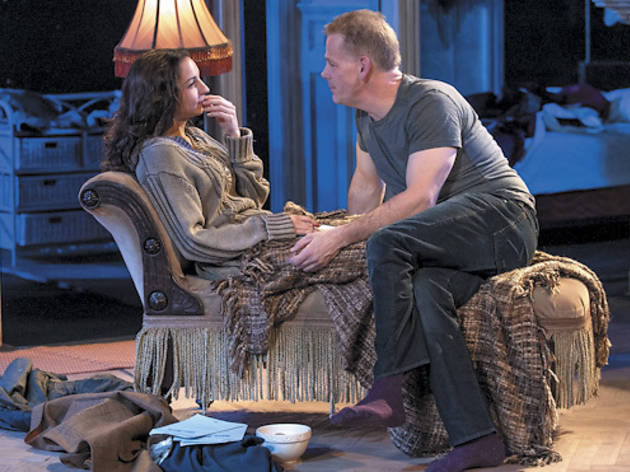 Playwright David Hare's 1995 work takes its name from a structure built for a character who never appears onstage—she's dead by the time the action begins. Yet this missing piece seems more vital than those represented by live bodies. Tom Sergeant (Philip Earl Johnson), a wealthy restaurateur, ordered up an addition to his home with an enormous skylight so that his wife, Alice, could watch birds as she lay in bed dying from cancer.
Tom explains this to Kyra Hollis (Laura Rook), his former employee, family friend and mistress who bolted from the Sergeants' lives when Alice discovered the affair. Tom drops by Laura's flat unannounced one evening, years after their last contact but, conveniently, just hours after his teenage son, Edward (Matt Farabee), has popped up to beg Kyra to help his grieving father. Tom and Kyra spend the next several hours trading reconciliations and recriminations.
Hare skillfully parcels out his characters' shared history, even as he leaves the stakes mostly in the past. In the present, Tom and Kyra (who's now teaching school in a rough part of London) segue into political arguments: He charges her with slumming born of liberal guilt, she accuses him of capitalist heartlessness, the two go round and round at egregious length. While Rook and Johnson impart their performances with passion, they don't generate a believable heat. That lack of friction may lie partly in William Brown's expansive staging. Kyra's supposedly cramped and shabby flat is so sprawling in Todd Rosenthal's set as to allow far too much daylight between the former lovers.