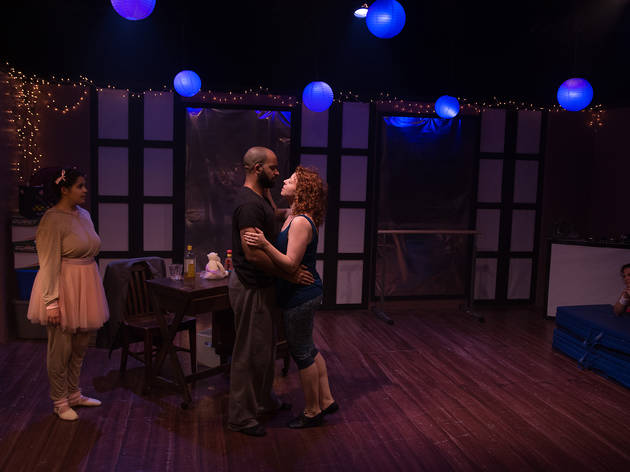 1/3
Photograph: courtesy Heron Agency
2/3
Photograph: courtesy Heron Agency
3/3
Photograph: courtesy Heron Agency
Confusion and pain take center stage in this forcibly whimsical take on a failing marriage.
Dusty old toys or vaguely remembered dance steps can take us back to moments when life was perfect and the future bright. For playwright Jayme McGhan, these cheerful mementos provide an over-abundance of inspiration for a sentimental new work that gets lost in its own emotional detritus. Still Dance the Stars attempts to examine loss, pain and reconciliation with playful and intelligent whimsy; instead, a parade of childish and shallow theatricality makes it a less than stellar evening of theatre.
Central to the play are James (Martel Manning) and Anne (Bethany Geraghty): Their flash mob marriage proposal, caught on video and virally shared throughout the web, gave them a moment of cutesy pop-cultural fame. However, life's subsequent complications have pushed the couple apart, withering their six-year marriage. On the verge of divorce, a "where are they now" interview offers them one last opportunity to cash in on their celebrity before going their separate ways. Preparing for the interview takes James for a walk down memory lane—and sends the production off its rails.
McGhan theatricalizes James's emotional isolation through a kind of onstage play therapy. Rummaging through boxes of old stuffed toys, James begins to act out scenarios that wrestle with his unresolved issues—which include the loss of the couple's daughter, Hope (Ariana Sepúlveda). With each doll that comes out of the box, corresponding actors come onstage to act out James's imagined scenario, building to the evening's redemptive conclusion. What begins as an interesting look at the psychology of loss becomes a repetitive and unfunny joke. McGhan relies on gimmicky dance-offs and cartoonish costumes to liven up a somewhat compelling story, while Sarah Norris's uninspired direction favors rapid-fire line deliveries over emotionally connected conversations. Both neglect the quiet humanity in family life.
With the exception of Carl H. Jaynes as James's father, the cast, too, lack nuance. Where Jaynes has an easy humor and humility befitting an absent father trying to do right, the rest of the cast seem focused on quickly getting to the end of the play. Only in a silent moment, a danced pas de deux between Anne and Hope, does the evening achieve a compelling moment of beauty. Otherwise, for all of its attempts at theatrical magic and bittersweet honesty, Still Dance the Stars stumbles over its own feet.
New Light Theater Project at Chicago Dramatists. By Jayme McGhan. Directed by Sarah Norris. With Martel Manning, Bethany Geraghty, Ariana Sepúlveda, Courtney Knysch, Mike Aguirre, Claudia Campbell, Carl H. Jaynes, Dana Martin, Kaycee Jordan. Running Time: 1hr 35mins; no intermission.