The Baker's Wife at Circle Theatre | Theater review
Circle's revival offers strong performances, but this Stephen Schwartz rarity still feels underdeveloped.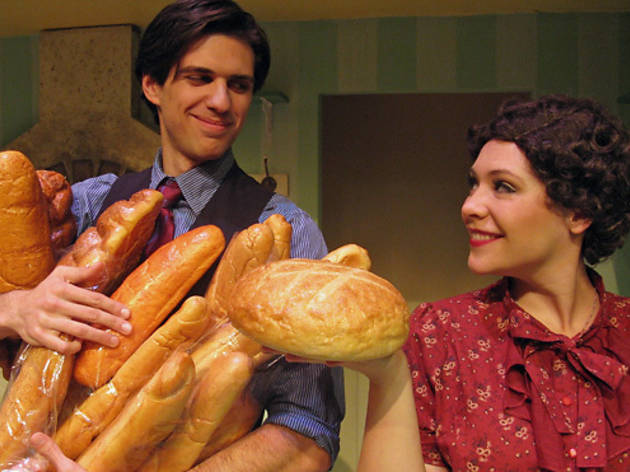 Stephen Schwartz and Joseph Stein based this rarely revived 1976 musical on a 1938 French film comedy, La femme du boulanger. There's much to admire in Circle's production of this light comedy about love, longing and limitation. The story is set in 1935 Provence, where everyone knows everyone else and nothing ever changes. The villagers happen to be in a moment of French crisis, however: They've been without fresh bread for weeks now (mon dieu!). Soon enough, a baker named Aimable (Chuck Sisson) arrives with his very young wife, Genevieve. Things seem to be getting better—that is, until Genevieve (Khaki Pixley), increasingly dissatisfied with her life, becomes the community scapegoat after running off with the sexy and seductive Dominique (a perfectly cast David Sajewich).
As Genevieve, Pixley has a strong presence and standout vocal chops; her rendition of the famous "Meadowlark" is one of the show's strongest numbers. Still, the complexity of her emotional struggle feels underexplored in the story. Indeed, the most compelling aspects hint at an underlying darkness—the power and danger of community, the disillusion of romance—but these themes are given short shrift. An especially moving number in Act II, "Romance," begins with the suggestion that women in France are doomed to "search for romance." A few scenes later, however, this Madame Bovary has returned to Aimable, who takes her back; the play ends with the suggestion that they'll try, at least, to live happily ever after. This is musical theater, of course, not the realism of Flaubert—and yet The Baker's Wife feels, much like Genevieve, unfinished, content to provoke where it might probe, to plod where it might persevere.