The Birthday Party at Steppenwolf Theatre Company | Theater review
Austin Pendleton revives Harold Pinter's 1958 work with every pause and ambiguity frustratingly intact.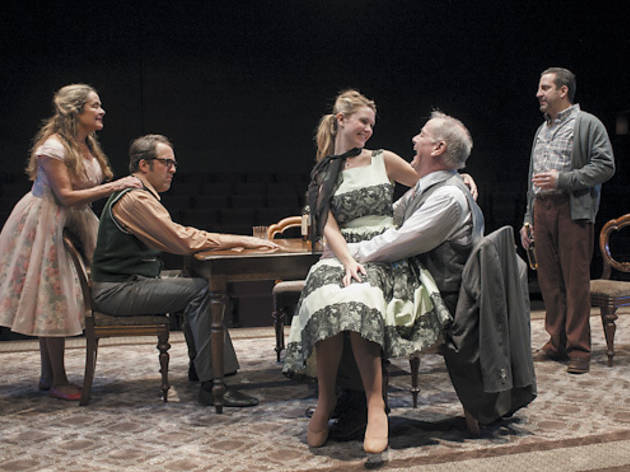 Harold Pinter's 1958 work, his first full-length play, remains as frustratingly oblique as ever in Austin Pendleton's revival. Despite a cast that evokes Steppenwolf's history as Chicago's longest-established theater ensemble—including original ensemble member Moira Harris's return to the theater's stage after a 15-year absence and the debut of her daughter Sophia Sinise in a fair turn as the unexplained young tart Lulu—Pendleton's production is tough to parse.
Harris, as the boarding house's daffy matron, is an engaging presence, as is Ian Barford as the ambiguous man at the center of the play's mystery. Yet it appears the director hasn't made any decisions to clarify the author's ambiguities. Steppenwolf's Upstairs Theatre, after too many years of replicating the downstairs proscenium, has thankfully been rethought by scenic designer Walt Spangler as a traverse stage. But Pendleton seems too determined to honor Pinter's well-known pauses. This production needs to kick up the party.