The Copperhead at City Lit Theater | Theater review
A 1918 Civil War melodrama takes the easy way out, depriving its subject of all complexity.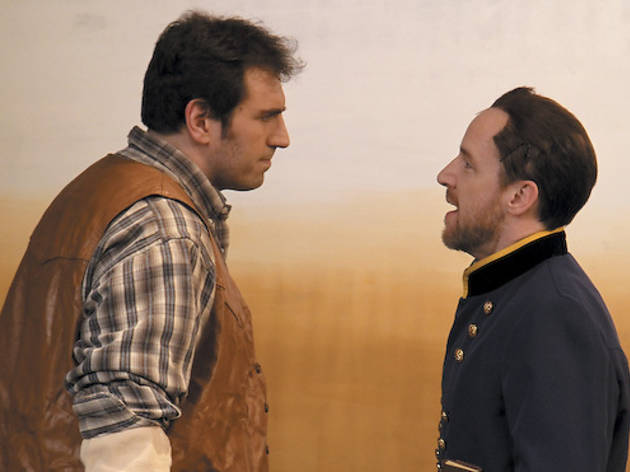 Almost by definition, war is a moral swamp. Even the so-called good ones inevitably require lesser-of-two-evils compromises and rock-and-a-hard-place choices, owing in part to humanity's frustrating failure to sort itself reliably into teams of good guys and villains. Thomas's 1918 Civil War drama centers on one of these unclear cases—Milt Shanks, a farmer living with his wife and two children in central Illinois (which looks more like Oklahoma or possibly Mars in Aaron Menninga's set design, with its backdrop showing an arid, orange wasteland under a bleached sky). When we first meet Milt, it's April 1861, and while many of his neighbors are enlisting to fight the Southern rebels, he's joined up with a group of sympathizers to the Confederate cause.
But ultimately, Thomas isn't as interested in plumbing any moral morasses so much as in providing comfortable melodrama. So in the second half, we jump to 40 years later, when a now-elderly Milt, reviled by the townspeople, finally reveals a letter from Abraham Lincoln himself asking the man to infiltrate the sympathizers and sabotage their efforts. Milt is a hero and a patriot after all—which Thomas's creaky, corny script never really throws into doubt in the first place. Scambiatterra's staging manages to bring some life to the play's womenfolk—especially Tummelson's hardy Ma Shanks—but there's only so much she can do with a play devoid of complexity, poetry or action. Rarely have war and personal anguish felt so dull.