1/8
Photograph: Jeffrey Bivens
Julie Cowden and Mike Tepeli in The Deer at the Ruckus
2/8
Photograph: Jeffrey Bivens
Julie Cowden and Joshua Davis in The Deer at the Ruckus
3/8
Photograph: Jeffrey Bivens
Bryan Bosque and Julie Cowden in The Deer at the Ruckus
4/8
Photograph: Jeffrey Bivens
Echaka Agba in The Deer at the Ruckus
5/8
Photograph: Jeffrey Bivens
Julie Cowden, Joshua Davis and Bryan Bosque in The Deer at the Ruckus
6/8
Photograph: Jeffrey Bivens
Cheryl Snodgrass and Echaka Agba in The Deer at the Ruckus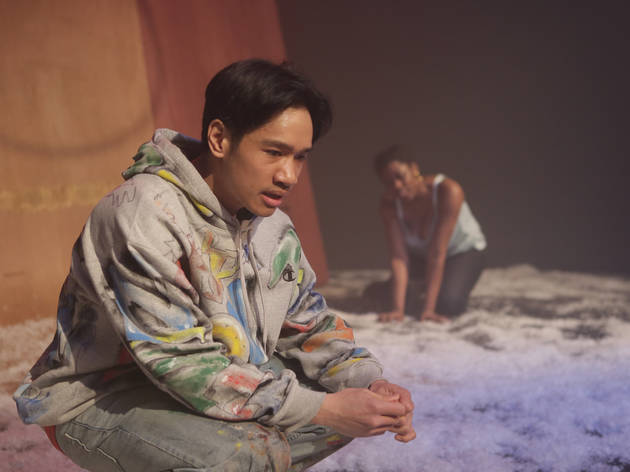 7/8
Photograph: Jeffrey Bivens
Bryan Bosque and Echaka Agba in The Deer at the Ruckus
8/8
Photograph: Jeffrey Bivens
Bryan Bosque, Mike Tepeli and Julie Cowden in The Deer at the Ruckus
The Ruckus at Collaboraction. By Brooke Allen. Directed by Eric Hoff. With ensemble cast. Running time: 1hr 10mins; no intermission.
Theater review by Aeneas Sagar Hemphill
The audience enters the world of The Deer shrouded in fog. Mysterious figures make their way through, the beams of their flashlights cutting through the haze. It's effectively immersive, helped in no small part by John Kelly's pitch-perfect lighting, and in a moment of particularly chilling sound design, we hear the crash. Clara (Julie Cowden) has hit a deer (Mike Tepeli), and from now on, we live in the moment her life flashes before her eyes.

Brooke Allen's new play takes us back and forth between scenes from Clara's past, showing us pivotal moments in the dissolution of her relationship with her brother, Russ (Bryan Bosque), and his English teacher John (Joshua Davis), whose suggestion that Russ drop out of school and travel sets the conflict in motion. Particular moments snap us back to the present: the deer and Clara, laying side by side, intimately philosophizing.

The tragedy is offset by a very whimsical and absurd device—the titular deer. Tepeli's performance is a stand-out in writing and performance. Tepeli is every bit the animal he portrays: his eyes wide open, his lines spoken in light staccato bursts, the suddenness and stillness to his movements. He provides a much needed levity, as he falls comically short of providing Clara solace for her very human problems.

But while the components of this play are very strong, I still came away feeling like something was missing. That feeling may lie with the character of Russ—a strong character but not necessarily a dynamic one. He's stuck, directionless, with graffiti art being his main mode of expression. Izumi Inaba's costume design for him, a sweatshirt and jeans tagged from head to toe, captures him perfectly. It's also a perfect illustration of his flaw. We learn about his artistic outlet and his compulsion to share with his sister every bit of incidental beauty he encounters, but the deeper person still eludes us. Granted, each of these characters is a ghost occupying Clara's memory, so a lighter touch is reasonable. But for Russ, the restraint may have cost him the genuine pathos that he and this story deserve.