1/8
Photograph: Michael Brosilow
Alex Goodrich, Zack Shornick, Cristina Panfilio, Wesley Daniel, Ryan Imhoff, Colin Morgan, Graham Emmons, Dan Rodden and Matt Browning in The Explorers Club at Windy City Playhouse
2/8
Photograph: Michael Brosilow
Alex Goodrich and Cristina Panfilio in The Explorers Club at Windy City Playhouse
3/8
Photograph: Michael Brosilow
Wesley Daniel and Alex Goodrich in The Explorers Club at Windy City Playhouse
4/8
Photograph: Michael Brosilow
Matt Browning and Zack Shornick in The Explorers Club at Windy City Playhouse
5/8
Photograph: Michael Brosilow
Ryan Imhoff and Wesley Daniel in The Explorers Club at Windy City Playhouse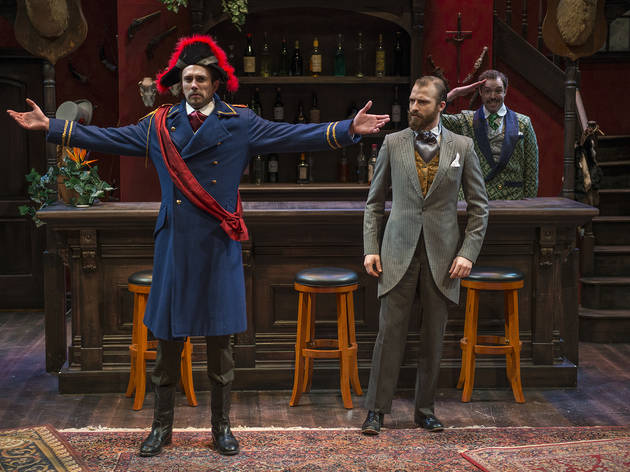 6/8
Photograph: Michael Brosilow
Ryan Imhoff, Colin Morgan and Alex Goodrich in The Explorers Club at Windy City Playhouse
7/8
Photograph: Michael Brosilow
Matt Browning, Graham Emmons, Wesley Daniel and Alex Goodrich in The Explorers Club at Windy City Playhouse
8/8
Photograph: Michael Brosilow
Alex Goodrich and Wesley Daniel in The Explorers Club at Windy City Playhouse
This strained comedy about an explorers' society needs to keep searching for laughs.
Best known as a co-writer of the musical Legally Blonde and, more recently, the Broadway-bound Gotta Dance, Nell Benjamin went solo on this oddly toned 2013 farce about a Victorian-era society of inept pseudo-scientists. Botanist Lucius (Alex Goodrich) wants to make the old boys' club co-ed by sponsoring the membership of Phyllida (Cristina Panfilio), who's recently discovered the lost city of Pahatlabong (and in whom Lucius has more than a scientific interest). Phyllida's brought back with her one of the natives, an acrobatic chap in blue body paint and a loincloth whom she's nicknamed Luigi (Wesley Daniel); Luigi's audience with the queen, whom he greets, in the manner of his people, by slapping her across the face, propels the plot—such as it is.
Both that plotting and David H. Bell's production move too slowly through the first act, which lacks the snap and energy good farce requires. It's as though the Victorian setting has layered a stifling politeness over the proceedings. The exception is Daniel's "savage" Luigi, and, though Daniel's performance is admirably skilled and athletic, it has to be said that even if the 19th-century English fetishization of indigenous peoples is an intended target for Benjamin, the reality of a white actor hopping around the stage spouting gibberish in "tribal" dress still reads uncomfortably.
The second act brings a few more chuckles as the action turns toward hiding Luigi from a revenge-minded representative of the crown and opportunities for more physical comedy present themselves. But still here there are stretches where the energy seems to leak out of the room, and Benjamin's payoff is rather feeble. As discoveries go, Explorers is pretty minor.
Windy City Playhouse. By Nell Benjamin. Directed by David H. Bell. With ensemble cast. Running time: 2hrs; one intermission.
Rating Breakdown
5 star:

1

4 star:

0

3 star:

0

2 star:

0

1 star:

0
This is one of the best shows I've seen in a long time. I read this review after seeing the show last night and couldn't help but to say that it is completely wrong in my opinion. The critic obviously has no sense of humor and doesn't realize that people like me that work hard every day, don't want to see some depressing show at night. This was funny, well written and the cast, designers and the venue, terrific! Highly recommended from the patron that goes to many shows around town. We even got subscriptions!