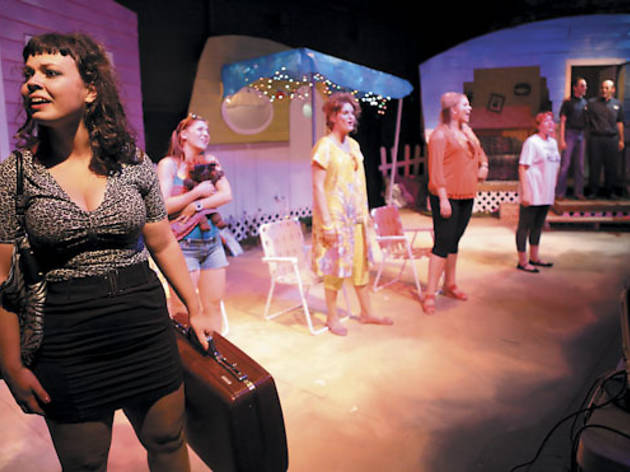 The Great American Trailer Park Musical at Kokandy Productions | Theater review
This animated and amusing musical puts public-domain white-trash tropes to work.
Given the references to Sally Jessy Raphael, huffing, and a persistent and unabashed commitment to public-domain white-trash jokes (they're both poor and uneducated!), you would think David Nehls and Betsy Kelso's musical was written long before 2005. But no. Still, while it doesn't mine much new material in its look at the goings-on in Starke, Florida's Armadillo Acres trailer park, Kokandy Productions' animated and amusing staging at the very least puts those tropes to work.
On a Dogville-style run from her permanent-marker-addicted ex-boyfriend (Alex Grelle), busty home-wrecker Pippi (Bri Schumacher) seeks refuge in a mobile-home community populated by a hysterically pregnant teen (Jennifer Wisegarver), a brassy prison-widow awaiting the next conjugal rendezvous with her husband (Ashley Braxton, who informs us that rendezvous is a French term for "fuckin' "), and Jeannie (Christina Hall), a Lifetime Television–dependent agoraphobe. Struck with a shameful case of wanderlust, Jeannie's husband (Jonathan Hickerson) initiates a tryst with Pippi, quickly learning that infidelity leads to entertaining Dreamgirls-style disco numbers and, less surprisingly, crushing guilt.
Director John D. Glover's comedically adept cast brings a playful sketch-comedy charm to its broad roles, and vocally ramps up Nehls's score, which has some welcome and catchy shades of Alan Menken's Little Shop of Horrors.
Best selling Time Out Offers