1/5
Photograph: Ryan Bourque
The Killing of Michael X at Jackalope Theatre Company
2/5
Photograph: Ryan Bourque
The Killing of Michael X at Jackalope Theatre Company
3/5
Photograph: Ryan Bourque
The Killing of Michael X at Jackalope Theatre Company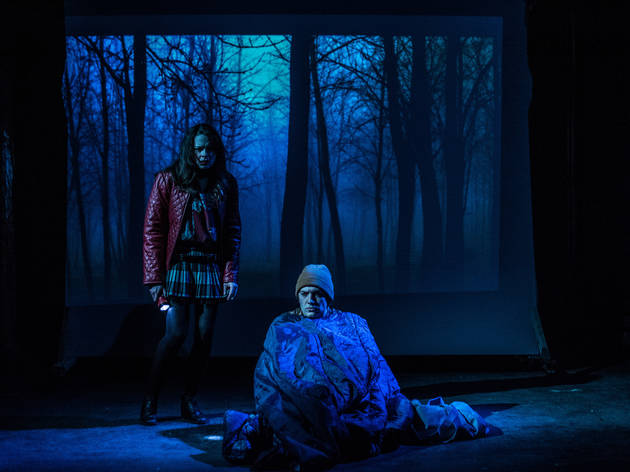 4/5
Photograph: Ryan Bourque
The Killing of Michael X at Jackalope Theatre Company
5/5
Photograph: Ryan Bourque
The Killing of Michael X at Jackalope Theatre Company
Jackalope Theatre Company. By Cory Hinkle. Directed by Kaiser Ahmed. With ensemble cast. 1hr 40mins; no intermission.
Theater review by Kris Vire
Minneapolis-based playwright Cory Hinkle's new work christens Jackalope's new space, in an unused corner of Broadway Armory Park that was once a military garage. Perhaps appropriately, The Killing of Michael X depicts a kind of psychological warfare, though the battle takes place entirely within the thoughts of one grieving teenage girl.

Celia (Joanne Dubach) is a cinema-obsessed teenager whose older brother, Roger, disappeared after becoming addicted to Oxycontin and leaving a suicide note; though a body was never found, he's presumed dead. Searching for someone to blame—other than herself, since she seems to harbor survivor's guilt over the notion that she could have done something to prevent his death—Celia hatches a plan to kill the Big Pharma CEO whose company put out the drug, roping in her sort-of boyfriend (Andrew Goetten) to serve as the Clyde to her reality-TV era Bonnie.

Or maybe Celia only plans to make a film about a girl who looks like her carrying out such a murder. Or maybe the whole plan will get scuttled because Roger has shown up alive—though it's weird how no one's actually seen him.

Jackalope's production, staged by Kaiser Ahmed, integrates film and live performance impressively, especially for a storefront-theater budget. But while it becomes clear that some misdirection is intended before we figure out exactly what's going on, both the script and the production need to find greater clarity; it's too ambiguous about whether the play's media critiques and the production's parodies of hard-boiled film acting are broadsides or just broad.