The Long Christmas Ride Home
1/6
Photograph: KBH Media
Sam Hubbard in The Long Christmas Ride Home at Strawdog Theatre Company
2/6
Photograph: KBH Media
Kristen Johnson in The Long Christmas Ride Home at Strawdog Theatre Company
3/6
Photograph: KBH Media
Sarah Gitenstein in The Long Christmas Ride Home at Strawdog Theatre Company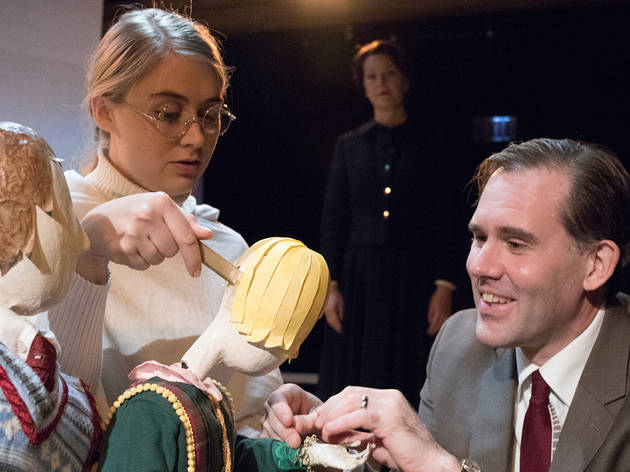 4/6
Photograph: KBH Media
Kristen Johnson, Loretta Rezos and Ed Dzialo in The Long Christmas Ride Home at Strawdog Theatre Company
5/6
Photograph: KBH Media
Loretta Rezos, Sarah Gitenstein, Kristen Johnson, Sam Hubbard and Ed Dzialo in The Long Christmas Ride Home at Strawdog Theatre Company
6/6
Photograph: KBH Media
Ed Dzialo in The Long Christmas Ride Home at Strawdog Theatre Company
There's not a lot that can breathe new life into domestic holiday dramas—except, maybe, Japanese puppets.
Paula Vogel's 2003 play, currently in a graceful production at Strawdog Theatre Company, is a bit odd. On the surface, it tells a straightforward story about a family in deep emotional distress at Christmastime. But that's not the weird part. What's unusual is that Vogel borrows heavily from the techniques and aesthetics of Bunraku (a form of Japanese puppet theater) and Noh (a form of Japanese dance theater) to tell this familiar-feeling story.
The result can be alternately frustrating and thrilling. At times, the play can feel overstuffed and rambling (it seems that Vogel wanted to include a nod to all the beautiful things she likes about Japanese art). But it also gives director Josh Sobel the opportunity to stage some surprisingly poignant moments of theater. The actors help, too: an airy performance by Sam Hubbard makes strong use of Vogel's lush language, while Loretta Rezos gives a grounded turn as the family's mother, slowly realizing that she's been left out in the cold. There is an unexpected tenderness in this production that appears over and over, seemingly from nowhere.
Like any road trip, the pacing here can feel a little slow, especially given the non-linear form of the narrative. The puppet show eventually takes a back seat to a series of monologues from each of the children as adults, and that transition dissipates a good deal of the play's momentum. But ultimately, the show picks up speed again and finds its way home.
Strawdog Theatre Company. By Paula Vogel. Directed by Josh Sobel. With ensemble cast. Running time: 1hr 30mins; no intermission.