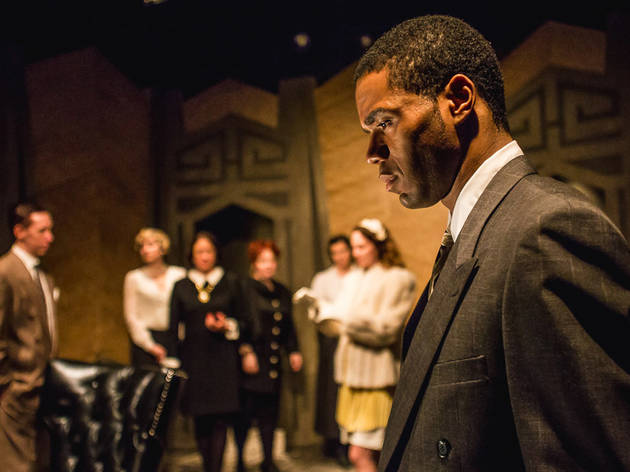 1/4
Photograph: Joe Mazza
The President at Oracle Theatre
2/4
Photograph: Joe Mazza
The President at Oracle Theatre
3/4
Photograph: Joe Mazza
The President at Oracle Theatre
4/4
Photograph: Joe Mazza
The President at Oracle Theatre
Oracle Theatre. By Ferenc Molnár. Adapted by Morwyn Brebner. Directed by Max Truax. With ensemble cast. Running time: 1hr 25mins; no intermission.

Theater review by Kris Vire

The scenario of Hungarian playwright Ferenc Molnár's 1929 farce Egy, kettő, három, or One, Two, Three—rather freely adapted here by Canadian writer Morwyn Brebner as The President—is both elaborate and simple. The title character, a captain of industry named Norrison (John Arthur Lewis), has been charged with the oversight of the daughter of a wealthy investor whose good graces Norrison must remain in for the sake of his own business interests.

But Norrison hasn't done so well in the oversight department, as shown when young Lydia (Michelle M. Oliver) shows up four months married and pregnant to boot; what's worse, her new husband, Tony Foot (Travis Delgado), is wrong in every way: he's a cab driver and a card-carrying Communist. But Lydia's in love, and her parents are arriving in one short hour. Norrison sees his only option is to transform Tony into a well-heeled capitalist on the fly. "I will have ideals when it is profitable," Norrison tells the lad to internalize.

I've admired director Max Truax's work for several years now, in productions such as his staging of Hamletmachine at Trap Door and his Woyzeck at Oracle, where he's now artistic director. The company is billing The President as Truax's first comedy, and it's just as bursting with ideas as his previous dramas. But here, for the first time in my experience, some of Truax's embellishments work against the text.

The chief problem is the pacing. Brebner's adaptation was highly praised in its two outings at the Shaw Festival, in 2008 and 2011, for the whizbang zip of its comic timing. And indeed, you can hear in Oracle's production that Brebner's script wants the screwball scat of a Howard Hawks feature; much of the comedy lies in the steam-engine snappiness of Norrison's snap decisions, but Lewis steeps his characterization in a leisurely deliberateness that's near deadly. That Truax has many of his cast members frequently checking their mimed watches while the sound of a ticking clock bears down on the proceedings only underlines this.

Eric Van Tassell's unconventional, severe lighting shifts, too, can make the play's light tone feel all too alien. But Truax's use of Steve Labedz's sound design to indicate all manner of unseen props winningly echoes the Emperor's New Clothes theme of the whole piece, as made explicit by the playwright's bit about the arrival of the suitmakers from "Invisible Tailors." And a number of the ensemble actors, including Joan McGrath, Eli Branson, Spenser Davis and Delgado as the increasingly confident Tony, imbue their roles with fetching charm.