1/11
Photograph: Jackie Jasperson
The White Road at Irish Theatre of Chicago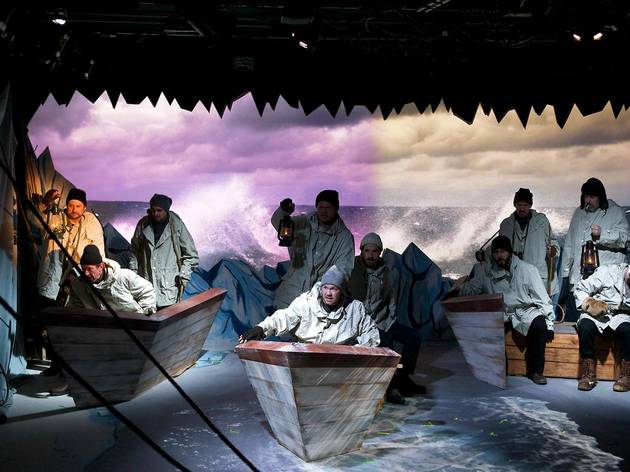 2/11
Photograph: Jackie Jasperson
The White Road at Irish Theatre of Chicago
3/11
Photograph: Jackie Jasperson
The White Road at Irish Theatre of Chicago
4/11
Photograph: Jackie Jasperson
The White Road at Irish Theatre of Chicago
5/11
Photograph: Jackie Jasperson
The White Road at Irish Theatre of Chicago
6/11
Photograph: Jackie Jasperson
The White Road at Irish Theatre of Chicago
7/11
Photograph: Jackie Jasperson
The White Road at Irish Theatre of Chicago
8/11
Photograph: Jackie Jasperson
The White Road at Irish Theatre of Chicago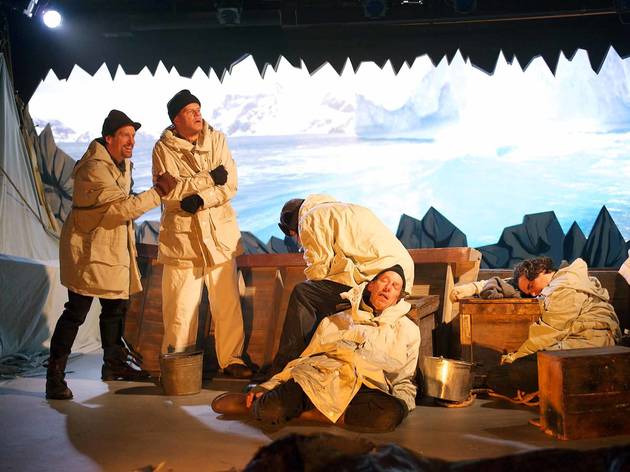 9/11
Photograph: Jackie Jasperson
The White Road at Irish Theatre of Chicago
10/11
Photograph: Jackie Jasperson
The White Road at Irish Theatre of Chicago
11/11
Photograph: Jackie Jasperson
The White Road at Irish Theatre of Chicago
Irish Theatre tackles a real-life epic in a new play about Ernest Shackleton's attempt to cross Antarctica.
Karen Tarjan, known for Lifeline Theatre's adaptations of Tolkien's Lord of the Rings books and the Civil War novel The Killer Angels, turns to a real-life epic tale for her first original play: Ernest Shackleton's 1914 attempt to cross Antarctica via the South Pole. The story certainly has its share of thrills—Erickson's ship became trapped in the ice and eventually was crushed, turning the narrative from exploration adventure to survival drama.
Tarjan uses a cast of ten to represent Shackleton's much larger crew, and takes pains to introduce each character one by one in a recruiting parade that takes up much of the first act. Still, once they set off on the Endurance and everyone's bundled up in identical sailing gear, it can be difficult to keep track of who's who.
Robert Kauzlaric's staging makes great use of projections by Smooch Medina to vary locales, but lighting designer Julian Pike's heavy reliance on tight pin spots to draw your eye to individual cast members' direct-address monologues has dicey results; at the performance I attended, the instruments' focus was apparently off, resulting in the actors rarely finding their light.
Tarjan's play, too, competently relays the whats and wheres of a fascinating incident from a century ago, but doesn't find much light regarding the whys.
Irish Theatre of Chicago at the Den Theatre. By Karen Tarjan. Directed by Robert Kauzlaric. With ensemble cast. Running time: 2hrs 30mins; one intermission.