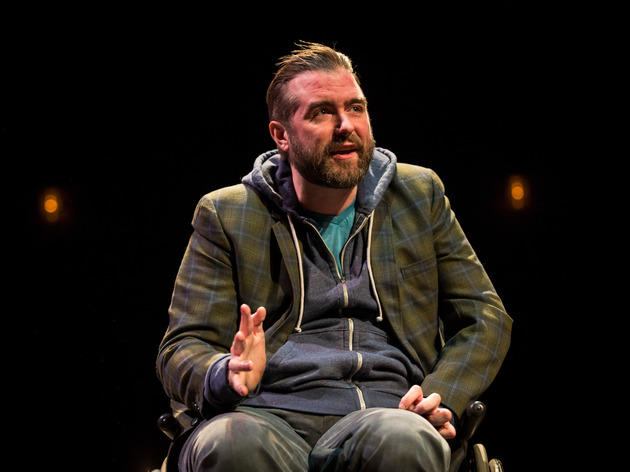 1/5
Photograph: Liz Lauren
Title and Deed at Lookingglass Theatre Company
2/5
Photograph: Liz Lauren
Title and Deed at Lookingglass Theatre Company
3/5
Photograph: Liz Lauren
Title and Deed at Lookingglass Theatre Company
4/5
Photograph: Liz Lauren
Title and Deed at Lookingglass Theatre Company
5/5
Photograph: Liz Lauren
Title and Deed at Lookingglass Theatre Company
Michael Patrick Thornton proves a prime interpreter indeed of Will Eno's words.
"They could almost make you cry, words," says the unnamed Traveler who makes up the center—heck, not just the center but the whole—of Will Eno's 2012 monologue. In Marti Lyons's beautifully spare staging for Lookingglass Theatre Company, Michael Patrick Thornton's low-key yet high-intensity Traveler and his words are all there are. And his words, snaking into every corner of our ideas of home, belonging and grief, are intensely affecting.
As a longtime fan of Eno's work, I'm well aware that his style is divisive to say the least. I find the playwright's facility with language, his compulsion to pick apart idioms and clichés even while admiring them, as fulfilling as others find it infuriating. But in Thornton, who's previously appeared in Eno's Middletown at Steppenwolf and directed the shorts collection Oh the Humanity (and other exclamations) at the Gift Theatre, we get a protagonist who fully engages with Eno's off-kilter, empathetic voice. Lamenting the life he left back home, wherever that is, while implicitly reminding us to savor our own, Thornton and his director find the humanity in this foreigner, thoroughly demonstrating how well they know Eno.
Lookingglass Theatre Company. By Will Eno. Directed by Marti Lyons. With Michael Patrick Thornton. Running time: 1hr 10mins; no intermission.