Charity holiday shopping
Just in time for the holidays, stores and charities team up to give you a good deal.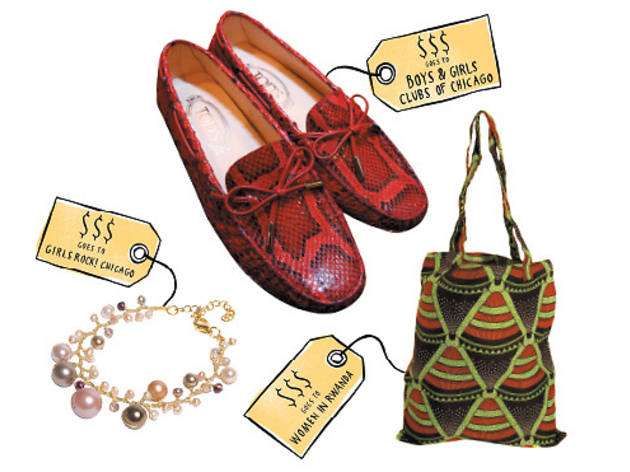 The lake winds blow so hard, two women fall to their knees and, dragged by open umbrellas, scoot down the sidewalk of dimly lit Oak Street. Nearby, glowing like a golden beacon, Tod's shoe store welcomes a crowd of shoppers who—barring a few mascara smudges—are no worse for the wear. They've braved the year's windiest day, Wednesday, October 19, to browse and buy shoes and other candy-colored luxury leather goods.
The gusts come as a slight relief for Monique Huey-Jones—the event organizer and a publicist for four luxury stores—who believes that good weather might've attracted a rush of people. They wouldn't have had room to fondle cornflower-blue makeup bags or try on snakeskin loafers. And that would be a bad thing. Because the show of conspicuous consumption is not exactly what it looks like. For this night of shopping, Tod's has partnered with Boys & Girls Clubs of Chicago. The nonprofit—which gets a percentage of event sales—invited its board members and their friends to, effectively, mix fall shoe-shopping needs with charitable giving. Those unable to attend arrange for Tod's to swipe their credit cards during the event's hours.
To create a festive atmosphere, Huey-Jones lined up event "hosts" (including Michigan Avenue Magazine doyenne Susanna Negovan and philanthropist Susan Crown), Champagne, hors d'oeuvres, gift bags and charming coat attendants.
Even the CEO of Tod's USA, Marco Giacometti, makes an appearance. "When you do an event and have the right partnership, it's a win-win," Giacometti says.
True enough; the high-end retailer receives a list of board members while the charity accepts a chunk of change. Huey-Jones, who throws a half dozen of these parties a year, has seen demand increase—and that excites her. "As a publicist, I'm not trying to save the world. This is the most rewarding [aspect]."
Luxury good purveyors aren't the only ones to capitalize on the charity-meets-marketing craze. Stephanie Sack, owner of plus-sized Bucktown boutique Vive La Femme and sister shoe-store Violette, will happily arrange a private shopping event—15 percent of proceeds go to the charity—if the right nonprofit inquires. "I'm very careful to partner with not-for-profits that are neutral, because you have to be careful about offending a customer."
In addition to creating events, Sack once donated one dollar to a charity—Girls Rock! Chicago—for one month on every transaction made. "I feel very strongly that small businesses are labors of love for their owners, who should also be active in the community. One of the ways I give back is by making donations to groups who I believe in."
Giving-minded shoppers looking to spend very little are in luck: They can do so at the Field Museum Store, where benevolent buying has been a mission as long as Jeri Webb, director of museum stores, can remember. "Pick a continent, and we're working with people," Webb says. In one case, the museum's anthropologists work directly with women in Peru, who make hand-embroidered bags ($20–$30) that save them from depending on income generated by razing the rainforest. In another instance, the museum works with WE-ACT (Women's Equity in Access to Care and Treatment) to purchase beautiful tote bags ($11) made by a Rwandan women's sewing collective, which provides income and healing to genocide survivors.
"Some people are just attracted to the colors," Webb says. "They're also supporting the museum, and women and children. We try to underscore that whenever we can."