Covering tracks
Perennial festival bands sound off on a decade of life on the street.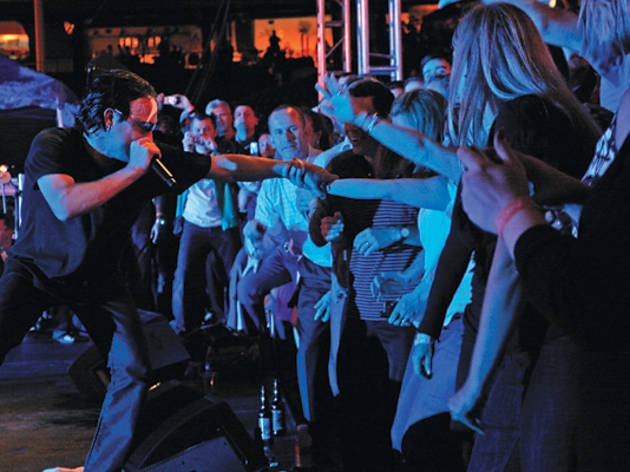 Every summer, armed with an arsenal of familiar tunes, cover bands take to street-festival stages goading foot-tapping attendees into ecstatic, beer-fueled sing-alongs. Crowd pleasing aside, many of these perennial festival bands cope with a head-spinning schedule and nightly performances featuring the same old songs. Still, as we discovered, most are happy to make a living playing the music they love. We talked with the members of hip-hop cover group Too White Crew, '80s hair-metal cover group Hairbanger's Ball and U2 tribute band Elevation about hectic schedules, balancing real-life and onstage personas and what songs they could do without.
C-Note, Too White Crew
Did you grow up listening to hip-hop?
Yes. That's the music I grew up listening to and I love. I was in a rock cover band about ten years ago. One of my jobs was to deejay music between sets. The music that would always get people dancing was old-school hip-hop. I thought: "Why don't we play this music ourselves?" So, I decided to be in the first band ever to play this music live. We're a bunch of humans imitating computers in a world where the reverse is happening.
How many shows have you played?
500, maybe. We've been around for almost eight years.
And it's not getting redundant?
It doesn't get old for us. Almost every song we do, no other band does. It's always fresh for the crowd, because they're not going out every weekend and hearing bands play Bell Biv DeVoe's "Poison," or Skee-Lo's "I Wish," or TLC's "Scrubs." All these song we do were huge hits, but bands don't play them. We're not out there playing "Jesse's Girl."
Does any one show stick out in your memory?
We played a show in West Hollywood, and I was doing "It's Tricky" by Run-D.M.C. I looked out at the crowd, and about ten feet away from me was Darryl McDaniels, a.k.a. the "D" of Run-D.M.C. That was pretty bizarre.
See Too White Crew at Mayfest (May 22), Belmont-Sheffield Music Fest (May 30), June Jam (Jun 5), and North Side Summerfest (Aug 21).
Danno, Elevation
Who plays more, you or the real U2?
We've done over one hundred shows a year for almost ten years. So [we play] a third of the year, basically. We played in Honduras, and the Cayman Islands twice. We went to Ireland in '08, which was a lot of fun.
You have to constantly put yourself in the mind-set of Bono. Any plans to save the world?
Unless I am on stage with the band, or hired to be Bono, I'm just plain old Daniel. I don't extend that into my personal life at all. But if people hire me for that purpose, it's 100 percent.
What kind of people hire you to impersonate Bono?
Sometimes a corporate party will hire a Bono, Bruce Springsteen, Elvis and a Britney Spears. We're just at the party and we'll shake hands and take pictures. I prefer having a band playing behind me rather than walking around and shaking hands, but those are usually very lucrative.
Does playing "Vertigo" over and over make you sick?
To be totally honest, there are some songs that I could do without. "Bullet the Blue Sky" is one. I think the whole band would agree another is "Angel of Harlem," but that is such a crowd-pleaser. I really like older songs, from October and Boy. Like "I Will Follow," "Gloria," and "The Electric Co." But, it's all timeless music as far as I'm concerned.
See Elevation at Castaways on North Ave Beach (1603 N Lake Shore Dr; Jun 13, 2:30–6pm), Navy Pier Beer Garden (700 E Grand Ave; Aug 29, 4–7pm).
Polly Pantz, Hairbanger's Ball
Why hair metal?
Because it's awesome! It's the best music ever. I started the band out of pure passion for that music. It's a decade of decadence, it's happy, it's sexy, it's all about a party. It's all about leaving your troubles behind and having a good time.
Did you start in the '90s, to take revenge on grunge?
We've been doing this for nine years, with an average of about 150 shows a year. We've covered "Jump" by Van Halen a couple thousand times.
Have you had your own personal Mötley Crüe moment?
We played a show in Knoxville, Tennessee. Some girl was loaded from the show and was partying on our bus. When it was time to go, I kept telling her, girl, you don't want to come back to Chicago with us. She never left the bus. We drove her all the way to Chicago, and she had to get on the Greyhound bus to get back home. It wasn't pretty.
See Hairbanger's Ball at Mayfest (May 22), Chicago Summerfest in Lincoln Park (Jun 27) and North Side Summerfest (Aug 22).
Complete festival listings: May | June | July | August | September | October
---
Festival cover bands | Fair play | Festival food pyramid | Sunning spots | What to wear to this year's festivals | Greasy festival food | Summer festival bathroom guide | Ethnic street festivals | Festival survival pack | Local craft beer at festivals | Summer festival organizers