Essential trunk items
To be prepared for emergencies, every Chicagoan needs these essential items in their car.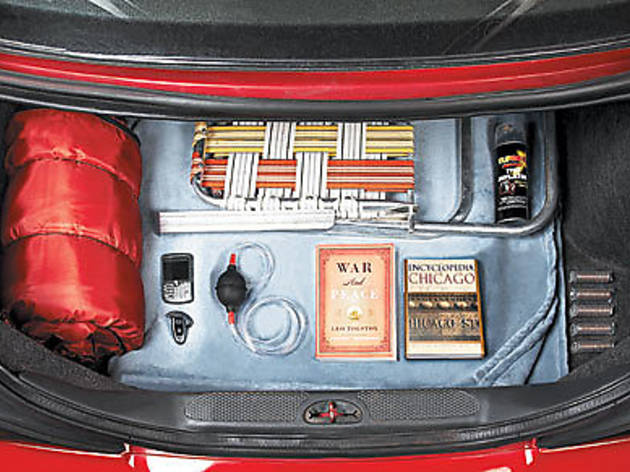 Cell-phone earpiece
Forget this bad boy and it could cost you 100 big ones. Thanks to a new ordinance that took effect February 21, drivers whose chatting, texting or Internet perusing causes an accident will face a $500 fine, up from $200 last year.
$50 in quarters
With parking-meter rates as high as $3.25 per hour in the Loop, some serious coin is required to nab a space.
Lawn chair
Useful as tailgate seating in the summer and parking-space saver in the winter.
Sleeping bag
Tire blown out? Engine sounding funny? When your car goes kaput, having something warm to curl up in can be a lifesaver in Chicago's Siberian temperatures.
Internet-ready phone
Outsmart red-light-enforcement cameras by downloading a map of all those Big Brother intersections at photoenforced.com.
Siphon
Sure, gas prices are low now, but not for long. Thanks to proposed legislation that would raise the state's gasoline tax from 19 cents to 27 cents per gallon, motorists may want to consider alternative ways of getting fuel.
A copy of War and Peace and The Encyclopedia of Chicago
In the midst of nightmarish bumper-to-bumper traffic, you'll need something lengthy to get you through extra-long commutes.
Tire inflator
Drivers who encounter broken glass, rusty nails or rogue spikes on the road, fear no more. With a can of flat-fixing goo in the car, those who meet the business end of something sharp can patch their leaky tires in minutes.
Windproof hair
|
Chicago guys
|
Essential trunk items
|
Airport hideaways
|
Essential CTA survival tips
|
The ultimate Friday night in Chicago
|
Poking fun
|
Winter-weather clothes
|
Chicago weekend escapes
|
Bartender wisdom
|
Neighborhood bars
|
Chicago's best ethnic restaurants
|
Chicago's other essential sports teams