Explore Bronzeville
Eat some damn good jerk chicken wraps, go on a walking tour and take in some comedy.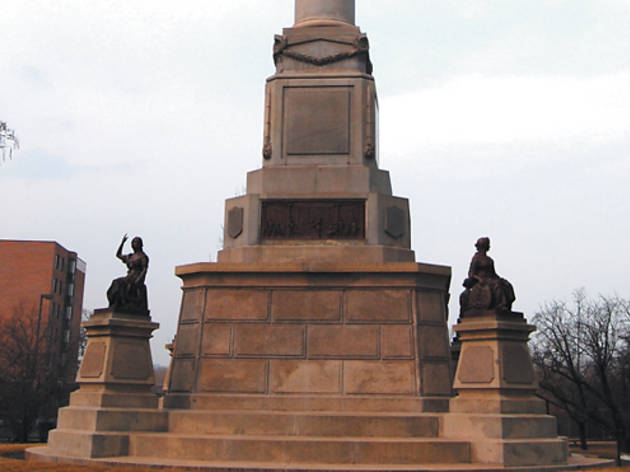 Stephen A. Douglas Tomb
You're not here to mourn Lincoln's adversary. The Bronzeville Historical Society holds its second annual African Heritage Garden groundbreaking ceremony. Drink "libations," i.e. juice and soda, and celebrate the seasonal return of Bronzeville's community garden. Afterward, BHS president Sherry Williams leads a walking tour of the neighborhood. 636 E 35th St (312-225-2620). Thu 4, 11am–1pm; free.
Oakland Museum
If the BHS tour doesn't get there, consider hopping on the No. 4 bus to visit the Oakland Museum. Haven't heard of it? Well, it's not exactly the MCA. Sculptor Milton Mizenberg turned his home into an art gallery, and some of his work—abstract wooden sculptures—sits on a lot beside his house, ready for public viewing. 1024 E 41st Pl.
Ain't She Sweet Cafe
Feeling peckish? It's a quick bus ride or a 25-minute stroll to Ain't She Sweet Cafe. With its plethora of sandwiches, like Da Steve (turkey, turkey bacon and turkey ham) and the (highly recommended) Caribbean jerk chicken wrap, plus local art available for purchase, Ain't is a worthy alternative to Bronzeville's plentiful soul-food options. 526 E 43rd St (773-373-3530). Mon–Fri 10am–6pm, Sat 11am–6pm, closed Sundays.
Jokes and Notes
The home of black stand-up in Chicago, Jokes and Notes has hosted acclaimed acts like Cedric the Entertainer and Bernie Mac. Every Thursday, a different comic emcees a night of riffs. 4641 S King Dr (773-373-3390). Wed–Sun, 7pm; price varies.