Foreign exchange
Three visitors agree to take their shop class from Water Tower to Wicker Park.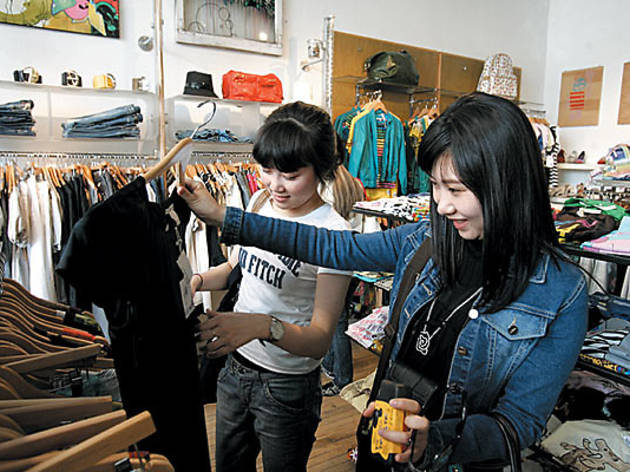 Photo: Michael Jarecki
Even we'll admit that shopping in Water Tower Place can be a nice way to spend an afternoon. But as fashion editors, we know Chicago has more to offer than Bebe. We decided to show tourists one of Chicago's other shopping hubs, albeit without the same Banana Republic shirts available in their hometowns.
In front of the Water Tower shopping center, we find three twentysomething women, and ask if they like to shop (check!) and if they're down for a Chicago adventure, cab fare included.
Noting their senses of style—from Colombian Paola Bermudez's rhinestone-studded Armani Exchange belt and Coach flats to Korea native Yun Hee's bubble dress and leggings—we opt to take them and fellow Korean Anna Lee to Wicker Park. Despite the area's glut of chain stores, it still hosts some of our favorite local boutiques featuring smaller labels we think the ladies will love .
On the ride there, we're reassured we've grabbed the right people. "I am sick and tired of shopping on Michigan Avenue," says Hee. "I have gone there almost every day to shop." Fifteen minutes later, we hop out of the cab and pop into Untitled (1941 W North Ave, 773-342-0500), where they spend a good 30 minutes holding hot-pink jumpers and microminis up to their bodies before they're ready to move on. "I'm so used to malls," Bermudez says as we point out a few recommended stores—p.45, Intermix, Nanette Lepore—in the area. "We don't have designer boutiques like these in my town in Colombia." We drop them off at Marc Jacobs (1714 N Damen Ave, 773-276-2998), where they make a mad dash for the pricey leather purses.
At the end of the day, all three agree the trip was worth it, but Bermudez admits she'd rather visit stores with more budget-friendly options. "I like to shop at the outlets, like the one in Aurora. I can find the same things that I've found at Water Tower but much cheaper," she says. Point taken, but that's one expensive cab ride.
Want to live like a tourist for a day? Click here for your chance to win a free pair of tickets to Chicago's hottest tourist attractions.