Game-day parking and transportation | Wrigley Field
If you plan to drive to a ball game at Wrigley Field this season, a little planning can save you time and money.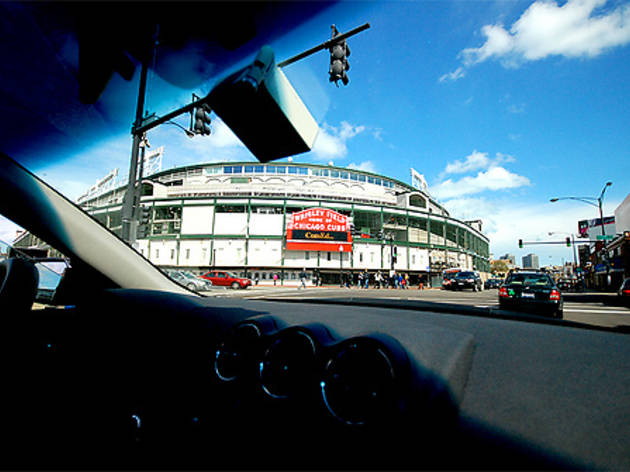 Admit it, some of us just like driving to a destination, period. So for those wanting to arrive in the cradle of their own car, we've got a few pointers for finding the perfect parking spots in and around Wrigley Field.
RECOMMENDED: Chicago Cubs baseball guide
Cubs parking and shuttle service
The Cubs-operated parking lot is located behind the stadium at 1126 W. Grace. Reserved spaces can be purchased only by calling 1-800-THE-CUBS. Spaces are available for weekday games—no weekend, night or holiday parking is offered at this location. The Cubs also offer a shuttle service to and from the DeVry University campus parking lot just west of the ballpark. The shuttle is FREE and parking is just $6. The lot is located just off Addison near Western (3300 N Campbell), with shuttle service running from the campus to Wrigley Field 2 1/2 hours before all games and two hours after day games. Weeknight shuttle service is limited to one hour after the game's end.
Directly across the stadium on Clark Street and on Addison Street, you can try your luck at either the McDonald's or Taco Bell parking lots. Parking attendants are on hand to take your money. Parking spaces are limited and fill up fast.
Reserved parking services
Park for Wrigleyville and ParkWhiz are two companies selling reserved parking spots at several locations "close" to the stadium. While some lots are within walking distance of the stadium, other locations may inspire you to grab a quick ride on the #22 or #36 bus or take the El to the Addison stop. If you choose to use a parking service, tickets must be purchased in advance by going to the company's website or calling them directly.
ParkWhizis a Chicago-based start up that went national. Whether you're looking for parking with onsite security or restrooms, covered parking, wheelchair accessibility, valet service or the option of being able to tailgate, ParkWhiz offers a menu of criteria to help you narrow and choose a parking spot. With loads of designated parking spaces around Wrigley Field and in the Lakeview and Wrigleyville neighborhoods, ParkWhiz collaborates with home owners wanting to rent one or more parking spaces to private businesses of all sizes with available parking spaces. Prices ($15–$40+) depend on who's playing, the day and the time of the game.All reserved parking purchases are done online or by calling 888-4-PARKWHIZ.
Pre-paid parking through Park for Wrigleyville allows you to park at one of its available sites four hours before the first pitch. Cars must be moved within two hours of the last inning. Designated parking at the following locations will be clearly marked with a sign "Park for Wrigley."
The Vic ($25) 3145 N Sheffield, walking distance from the stadium
Sports Authority on Clark ($25) 3134 N Clark, ¾ mile from the stadium
Century Plaza on Clark ($14 + bus/El fare) 2836 N Clark (consider the #22 Clark bus or the El at Diversey/Sheffield.)
Illinois Masonic Medical Center ($25) 3000 N Halsted (just over a mile from Wrigley Field)
Broadway Self Park ($14 + bus fare) 2830 N Broadway (jump on the #22 Clark bus if you're not inclined to walk 1.4 miles)
Lincoln Park Center ($14 + cab or bus fare) 755 W North Ave. (about 2.7 miles from the stadium, may want to factor in a cab or bus ride)
Parking spots can also available at3740 N Lake Shore Dr parking garage ($25), 3660 N Lake Shore Dr parking garage ($25), 3224 N Halstead parking lot ($25)
Private Parking (a.k.a. "sign wavers")
For the adventurous parker circling the side streets in hopes of landing that elusive parking spot, spotting a sign for parking is often just a matter of looking on a street corner for a person in costume or jumping and down, or avoiding the ones who like to yell into your open window or jump in front of your car. So, with this in mind, consider the following tips prior to handing over your money and/or car keys to a stranger holding a handwrittern cardboard sign that reads "Easy In/Easy Out Parking."
1. "Park Here/Easy In, Easy Out" sign holders may not actually own the parking spot they're waving you toward. Whether costumed or not, apron-wearing or not, holding a sign and taking money for a "parking spot" is easy—anyone can do it.
2. Most streets around the ballpark and in the neighboring Lakeview and Wrigleville blocks are permit-parking only. Heed the warning—ticketing and towing are strictly enforced. Before parking in a spot, look around for official city parking signs; don't just trust the person taking your money and pointing at a parking spot.
Local, privately owned parking lots are also an option. Many businesses around Wrigley Field welcome baseball fans and their dollars. Parking can be a very lucrative business, in some cases adding an additional $10,000+ in revenue to a business's bottom line. Look for attendants, they're usually onsite and remember to ask about the parking rules before leaving the lot.
On a side note, we're all well aware that public transportation is not only an inexpensive way to get to the ballpark, it also helps reduce congestion on the streets, air pollution, gas consumption and a person's overall carbon footprint. Take advantage of the city's many buses and El routes as well as shuttle services to and from parking lots or bars/restaurants.