Milwaukee farm-to-table restaurants
Eating through Milwaukee's quietly sustainable restaurant movement.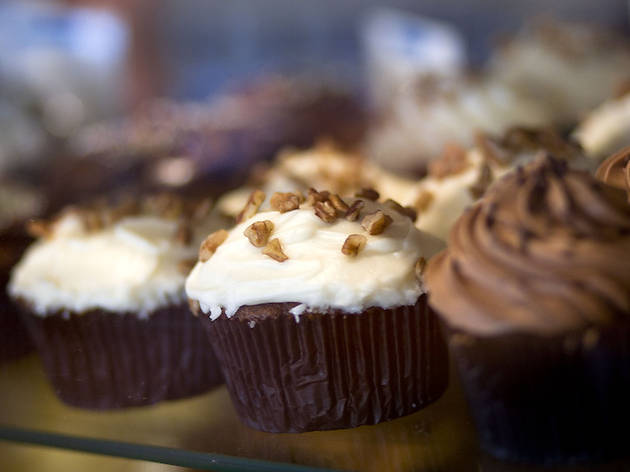 1/8
Photograph: Darren Hauck
Dessert case at Honeypie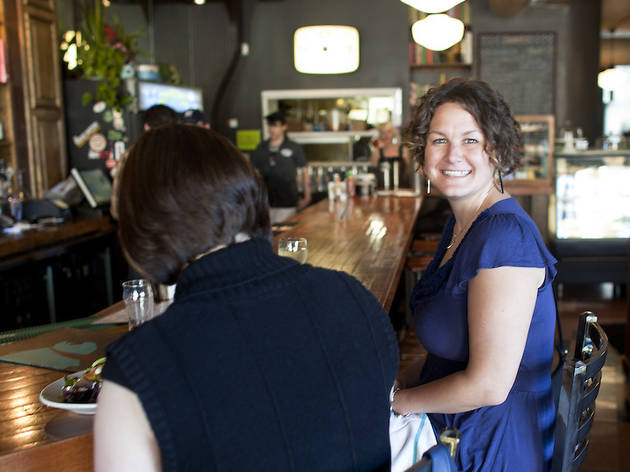 2/8
Photograph: Darren Hauck
Jean Northway at Honeypie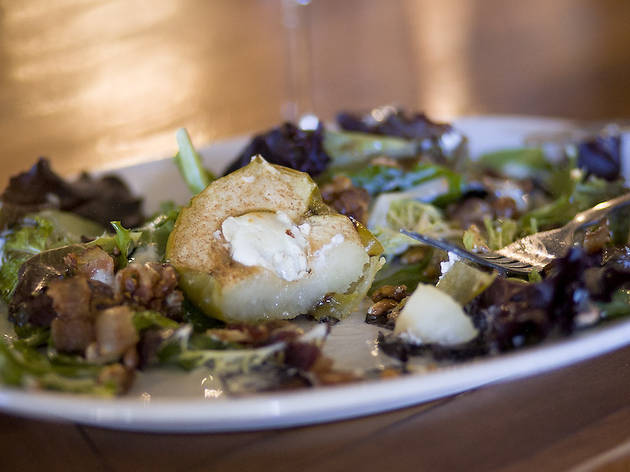 3/8
Photograph: Darren Hauck
Apple salad at Honeypie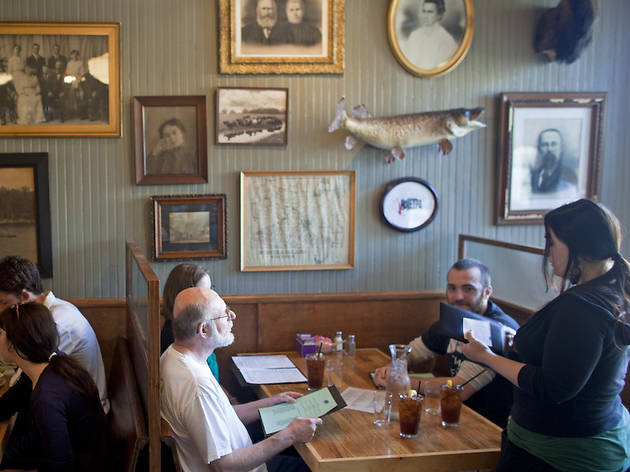 4/8
Photograph: Darren Hauck
Honeypie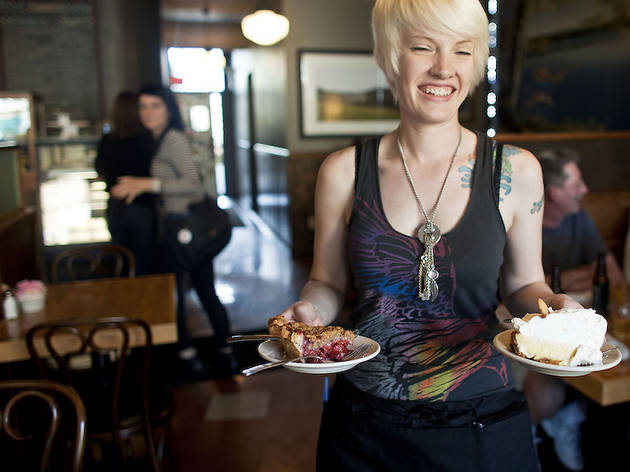 5/8
Photograph: Darren Hauck
Honeypie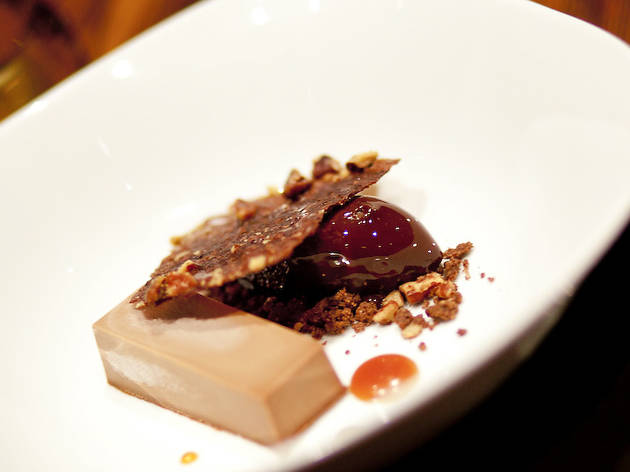 6/8
Photograph: Darren Hauck
Turtle sundae at Distil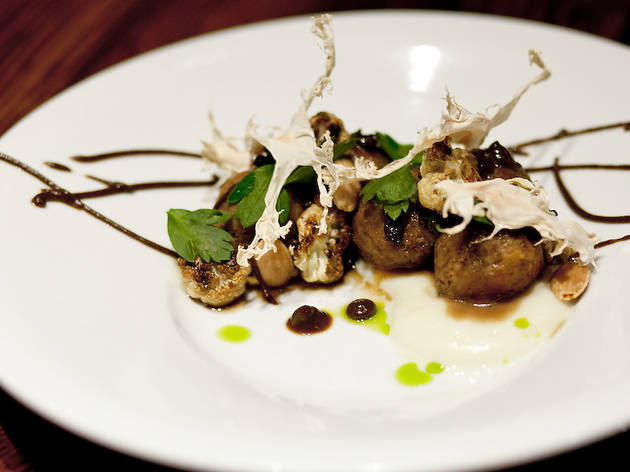 7/8
Photograph: Darren Hauck
Lamb meatballs at Distil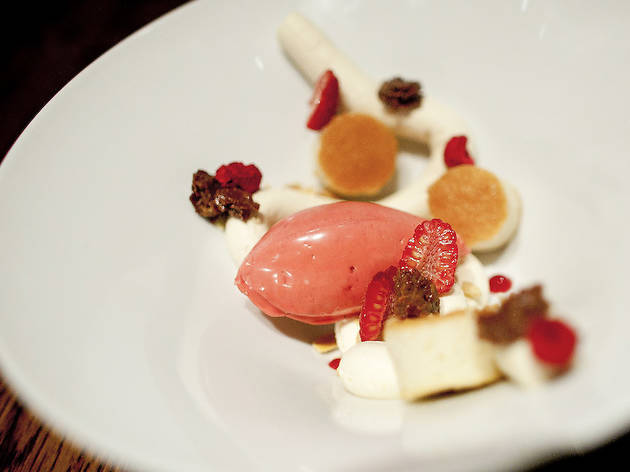 8/8
Photograph: Darren Hauck
Raspberries and white chocolate at Distil
Jean Northway and Michael Diedrick are staring at the chalkboard menu above the counter of the National (839 W National Ave, 414-431-6551), their café in Milwaukee's Walker's Point neighborhood. They seem a little tongue-tied. I've asked them why the description for each sandwich doesn't include the name of the farm the ingredient comes from (e.g. "Growing Power lettuce").
They squint at the words on the board. "But we can't," Northway says. "There's not nearly enough room for all that."
The National sources much of its produce the way many of Milwaukee's sustainably minded restaurants do: from Braise RSA. As an RSA (restaurant supported agriculture), Braise operates much like a CSA (community supported agriculture), only it serves the business sector. Produce is culled from several area farms by Braise's staff and distributed to the restaurants—one day the carrots could be from one farm, the next from another. That would mean the chalkboard at the National would have to change a lot, almost every week. But that's not the only reason Northway and Diedrick don't advertise their ingredients' pedigree.
"The customers are behind it," Diedrick tells me. He means two things: one, that some of his customers are behind the National's efforts of sustainability—they understand and support the practice. But just as many of his customers are lagging behind the movement—they're unaware of the trend and the issues behind it, or they simply don't care. Either way, most people aren't coming to the National for the local lettuce. So why try to cram that information on a small chalkboard?
This, it seems, is how Milwaukee restaurants roll. Many hawk ingredients from area farms; few hit you over the head with it. That is certainly the case at Honeypie (2643 S Kinnickinnic Ave, 414-489-7437), a restaurant Northway and Diedrick suggest for brunch. There, a list of farms the restaurant supports is buried at the bottom of the menu, with a few shout-outs here and there ("Wisconsin grass fed beef" in the meatloaf, for example). But the overall vibe is that of a homey (and fairly gluttonous) Midwestern diner. Brick-size housemade biscuits are so full of butter they crumble on contact, and they're stuffed with thick shavings of sweet ham. Housemade sausages flank the decadent Honeypie benedict (also on those biscuits). And then there's Honeypie's bakery: Incomparable morning buns, the dough somewhere between brioche and croissant, are rolled in sugar and ladled with cream-cheese icing at the last minute. And there are at least half a dozen pies, the chocolate cream variety topped with thick, unsweetened whipped cream and housed in a delicate graham-cracker crust. The cost of four coffees, four entrées, one (okay, two) sticky buns and one slice of pie? $57. Affordability, Diedrick says, is another tenet of what he and the Honeypie owners are trying to do. The idea is "quality food for everybody," he says. "If you can't afford it, it's not quality."
Diedrick practices what he preaches: At the National, a chicken-salad sandwich, one housemade chai latte and four baked goods (including buttery sweet potato muffins, baked by a guy who also bakes at Honeypie) cost less than $20. But there are, of course, higher-end restaurants participating in Milwaukee's farm-to-table movement. One is Hinterland (222 E Erie St, 414-727-9300), where a pork loin from Uphoff Farm in Madison costs $24. Another is Roots (1818 N Hubbard St, 414-374-8480), a forefather of the scene. It's "one of our favorite Milwaukee restaurants, hands down," Northway exclaims. "I cannot recommend them enough."
That's a sentiment visitors to Milwaukee will hear a lot. But not all chefs share in the enthusiasm. "Roots and Hinterland, huh?" says Kurt Fogle, the pastry chef at SURG Restaurant Group (Carnevor, Umami Moto). "Those are the only places anybody writes about in Milwaukee."
Fogle is standing in the Milwaukee Public Market (see "Clever marketing," page 20) with Matt Haase, the executive chef of SURG's cocktail-and-charcuterie lounge, Distil (722 N Milwaukee St, 414-220-9411). Farm-to-table in operation but not in identity (the restaurant raises its own beef and gets much of its produce from the Simply Wisconsin co-op), Distil nevertheless faces an uphill battle with its client base, the chefs say. The reason: Milwaukeeans are not especially adventurous eaters. Take desserts—Fogle reports that most restaurants stick to only four: crème brûlée, lemon tart, flourless chocolate cake "and cheesecake," he says, shaking his head. "Always cheesecake."
The dessert scene is so formulaic, he says, that he has trouble finding other pastry chefs. "I'd love to have a pastry chef community to hang out with," he says. "But I can't find any others."
So at their restaurants, the chefs say they have to engage in a bit of trickery: Put simple descriptions on the menu so that people order the food, but surprise them with extra, more daring elements on the plate. "So the lemon tart comes and there's brown butter powder on the plate," Haase offers as an example. The goal is to convert customers on the sly—to be as low-key about the ambitious nature of their food as they are about how local it is.
All of Roots' media attention seems to have worked—at 5pm that night (a Saturday), the place has no tables to offer. ("People eat early here," Northway explains.) So my companion and I sit at the bar, drinking Wisconsin beer from cans (an odd juxtaposition in this blandly formal dining room), and eating seafood sausages prepared corn dog–style and an enormous plate of tandoori-style short ribs. It is all very well-prepared. And underwhelming.
And so, hunting for inspiration, we follow Fogle and Haase's recommendation for dinner, which is, in a fit of modesty, their own spot, Distil. In contrast to Roots, Distil has not yet filled up when we arrive. We're handed enormous menus, filled mostly with long lists of bourbon and ambitious cocktails. In comparison to the ample drink options, the food choices look slim: Cheese and charcuterie dominate, with only a handful of composed plates listed. We order lamb meatballs and a hamburger, white chocolate mousse and a turtle sundae. Basic fare. Or so it seems on the menu.
But just as Fogle and Haase had promised, the dishes that arrive far exceed their simple menu descriptions. Meatballs—juicy and dripping with umami—have lines of currant puree painted on the plate; the decadent burger is made with beef from cows the owner of Distil raises, and shows up draped in onion jam. And the rich white-chocolate mousse snakes across a large bowl, dotted with sweet-tart fresh and freeze-dried raspberries, and raspberry sorbet. For the atmosphere, for the city it is served in, it is highly unexpected. Of course, having learned what I did in Milwaukee today, I shouldn't be surprised.