Plan of a slack
Let Chicago's most famous truant inspire your next "sick day."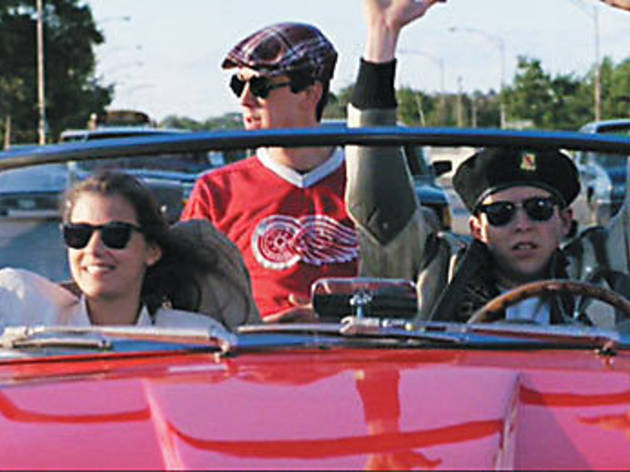 What is Ferris Bueller's Day Off if not director John Hughes's how-to manual for springtime Chicago absenteeism? As the temps settle into the 70s, our citizenry's mantra becomes "What would Ferris do?" Unfortunately, 23 years after the film's release, replicating FBDO's day on the town proves impossible or impractical. So take a "mental-health day" with our present-day alternatives. After all, life moves pretty fast. If you don't stop and look around once in a while, you could miss it.
Ferris's day off
Ferris, girlfriend Sloane and BFF Cameron kick off their citywide romp with a bird's-eye view atop "the world's tallest building."
Modern-day problem
Major cool points deducted from the Sears for losing its world's-tallest title ("tallest in the Western Hemisphere" doesn't have quite the same ring) and for its awful future name, Willis Tower.
Your day off
Avoid the $12.95 entry fee at the Sears—take in the skyline view with cocktail in hand at the Signature Lounge (875 N Michigan Ave, 312-787-9596) on the Hancock's 96th floor.
---
Ferris's day off
From a viewing room above the frantic floor of the Chicago Board of Trade (CBOT), Ferris (sorta kinda) proposes to Sloane, while Cameron apes traders' hand gestures.
Modern-day problem
After September 11, the CBOT began limiting its viewing gallery to school field trips, industry orgs and 4-H clubs.
Your day off
Watch people gain and lose their own money at the Jackson OTB (223 W Jackson St, 312-427-2300), just doors away from the CBOT. In this bear market, ponies may be a safer bet than stocks.
---
Ferris's day off
Posing as "Frohman, party of three," Ferris and company lunch on pancreas at a stuffy French restaurant (Chez Quis), and get an extra helping of snootiness from the maître d'.
Modern-day problem
Chez Quis (phonetically "Shakey's," the pizza dive where Principal Rooney first hunts for Ferris) is a product of Hughes's imagination.
Your day off
Though you won't find pancreas on the menu, Café des Architectes (20 E Chestnut St, 312-324-4063) offers a fancy-schmancy four-course lunch for just $21.95. Bonus: The maître d' has a French accent but won't haughtily insist you "take the kids and go back to the clubhouse."
---
Ferris's day off
Ferris catches a foul ball at a Cubs game; Cameron heckles the opposing team ("He can't hit, he can't hit, he can't hit! Sa-wing, batta!").
Modern-day problem
Affordable day-of-game tix are hard to come by. Since FBDO's '86 release, Wrigley Field's stands have been overrun by deep-pocketed yuppies, causing ticket demand to far outpace supply.
Your day off
The White Sox, a team whose scrappy, blue-collar charm hasn't been spoiled (yet), offers early-season single-game ticket discounts (deets on whitesox.com)—unlike the Cubs, whose discount-day tix sold out long ago.
---
Ferris's day off
At the Art Institute, Ferris and Sloane suck face in front of the blue stained glass of Chagall's American Windows, while Cameron meditates on Seurat's Sunday Afternoon on the Island of La Grande Jatte.
Modern-day problem
Chagall's windows are in storage during construction of the Modern Wing. The AIC is also raising admission fees: $18 for adults (a 50 percent increase) and $12 for students (a 70 percent hike).
Your day off
Four words: free West Loop galleries. Zone out (or make out) in front of Cody Hudson's abstracts at Andrew Rafacz (one of several galleries at 835 West Washington Boulevard).
---
Ferris's day off
Ferris hams it up at the German Day Parade in the Loop, lip-synching to Wayne Newton's "Danke Schoen."
Modern-day problem
Several years ago, organizers moved the parade—which isn't until September 12—from downtown to Lincoln Square.
Your day off
Short of throwing a one-man sidewalk ticker-tape fiesta, the closest you'll get to Ferris-style fun is heading to German-owned bar Carola's Hansa Clipper (4659 N Lincoln Ave, 773-878-3662). Order a Bitburger, punch "Danke Shoen" on the jukebox and start crooning, Bueller.