Poets pay tribute to the best and worst of the CTA
The Brown Line and and 66 Chicago bus.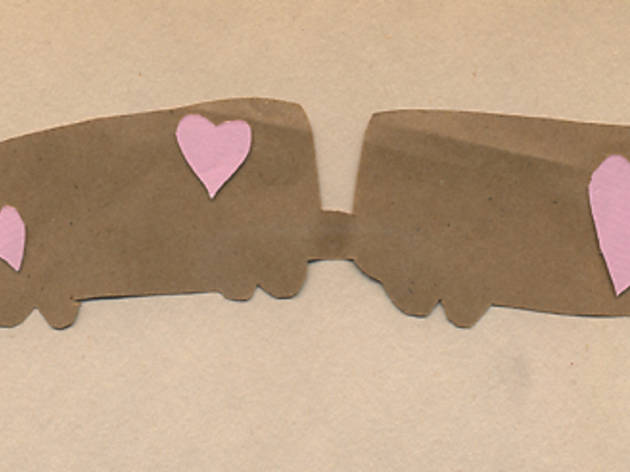 Tremble Light Box of Zoom
By Robbie Q. Telfer
Like a permanent lasso around the
stiff animal neck
of downtown
the Brown Line helps the North Side rein
in our bucking phallic center.
A cowboy named Kimball loops
the Loop
with elevated steel rope
while this eternal taming
kicks up people dust —
humans made of once still brown earth
returning someday
This dog is tweakin'!
Still barkin' a ruckus
despite being so cheap
and so roomy, her vision
so bright so wide
relatively un-gloomy.
And if we're the fleas she's tryin' to
shake herself clean of
how come these furry seats
all seem so vacuumed?
Other more colorful puppies
aren't nearly so spiffy,
but Browny is still rattle shakin'
like the rest of 'em
like she's nervous
like we're gonna lay all our
flea eggs on her and settle in.
Don't worry, dog, we're not
stayin'! Chill the fuck out —
I'm just tryin' to go to work.
At the end of it all
the drumming, bing-bong
doors are closing
become a mantra —
a hum-blanket over worry —
the day makes more sense
when you let it melt off
into the heartbeating hands
that forever cradle you home.
Telfer is director of performances for Young Chicago Authors, cofounder of The Encyclopedia Show and author of the poetry book Spiking the Sucker Punch.
---
Transfer to El
By Emily Rose
It's Chicago cold.
My body rocked with shivers,
scarf damp and frozen to my face,
but I am almost relieved when the first two pass by
too packed to take on more bodies.
At least I am supposed to be this miserable outside.
Even on a Sunday, the buses look exhausted
when they finally arrive in tardy droves
and sag to the pavement as I board.
Wading into the smell of
aftershave, hangover, coffee and gasoline,
I wonder if Hell is as crowded as the #66 bus.
Steering my hips away from stray hands,
navigating strollers and shopping carts,
angling for some illusion of personal space.
What sin would find me nose-deep in armpits
for all eternity when
even cattle get their own stalls?
Emily Rose is a regular contributor to The Encyclopedia Show and a Real Talk Live variety show artist.