Talk the talk, walk the 'Cock
Will we convince tourists that the Hancock beats the Sears as the spear of choice?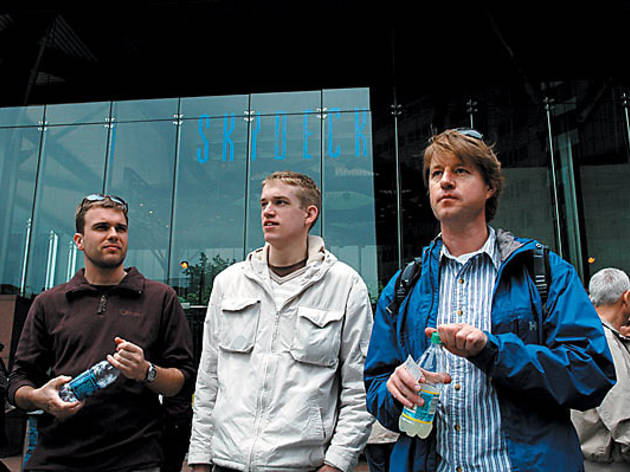 Photo: Andrea Bauer
Photo: Andrea Bauer
We don't hate the Sears Tower (233 S Wacker Dr, 312-875-9447). But $12.95 to go to the 103rd-floor Skydeck? Who pays to explore an office building? If it's an aerial Chicago view you're jonesing for, you can get a sweeping one at the Hancock's Signature Lounge (875 N Michigan Ave, 312-787-9596) on the 95th floor, while your bucks go to a much better cause: cocktails.
Pumped up to proselytize, we try out our pitch on two young men waiting in line for the Sears Skydeck: "We'll take you to the Hancock, pay for the cab and drinks, and we guarantee you a great time. You just have to tell us what you think." No dice; they have to meet someone inside. Then we are denied by a hipster who alleges his girlfriend really wants a photo of the view. "We ain't buying anything," says the mullet-sporting man we try next.
Finally, we stumble across three men on a New York-to-L.A. road trip with TrekAmerica, an "adventure" tour company that passes through Chicago.
"Why not? We'll go," says Wayne Dodds, an amiable South African, overruling a mild objection from David Ooms, who's visiting from Brussels. As we cab it to Hancock, Dodds tells us it's the second time strange women have approached them today. "We helped three women by changing their tire this morning. They promised us drinks tonight."
Photos: Andrea Bauer
We're surprised to see how crowded the Signature Room is during the day, but the casual drinking still beats the Sears's cheesy narrative. We snag the one open table by the windows. Ooms is grimacing—still a hater—when we excuse ourselves to another part of the room and spy on them as they stir "Skyscraper" ($11.50 each) drinks with fruit skewered by plastic Hancock-shaped spears.
Later, we walk over to see how they're faring. Ooms is laughing and having a good time. We ask what they think of Chicago, but they claim they haven't yet seen the real city. All the flowers, clean streets and pristine edifices don't match up with the gritty urban experience they've imagined. We explain that although our "real Chicago" involves watching a daily deluge of drunks fall out of a Ukie Village dive, the Hancock and its surrounding architectural wonders are "real Chicago," too, and historic to boot.
Ultimately, they're pleased we spirited them to this high-flying bar. "It's more…free" than the Sears Tower, says Alex Wood, from Liverpool, England, and the youngest of the bunch. "And the views are probably better, because you get to see the lake," adds Dodds. "It's a relaxed atmosphere." Hmm, is his satisfaction the booze talking? Probably. And that's exactly our point.
Want to live like a tourist for a day? Click here for your chance to win a free pair of tickets to Chicago's hottest tourist attractions.