Valentine's Day parties
Need something to do on Valentine's Day? Here's our list of events.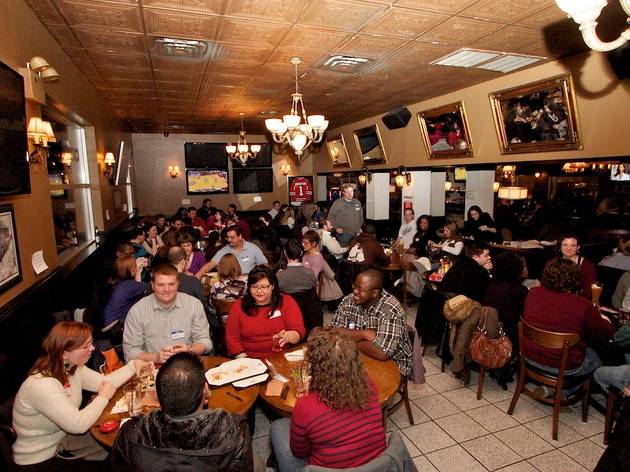 Dateless on Division
Dubbed the Anti–Valentine's Day pub crawl, Dateless on Division features intentionally terrible love advice from a Cranky Cupid and the opportunity to shred or pummel your ex's likeness, in addition to other loopy V-Day activities. Ask for a lanyard at participating bars. Various bars near Division and Rush Sts including the Original Mother's, 26 W Division St (rushanddivision.com). 9pm–2am; free.
Hottest Singles Party
The dames of Flirty Girl Fitness gym throw their first singles party at their new Lincoln Park location. Appetizers from Swirlz Cupcakes and free drinks set the mood. Flirty Girl Fitness, 2215 N Halsted St (312-666-2262). 8–10pm; $20.
It's Not Me, It's You!
A singles party geared toward Hispanics, this mixer includes a date auction with Chicago notables like former The Bachelor contestant Jeannette Cherie Pawula. All auction proceeds go to the American Heart Association, and the ticket price includes two drinks and a Champagne cocktail. Moe's Cantina, 155 W Kinzie St (312-245-2000, quriousquinones.blogspot.com). 5:30pm; $30.
Make Up Make Out
With no cover charge and a clear mandate, lock lips on the dance floor to the tunes of British DJ Reuben Wu. Beauty Bar, 1444 W Chicago Ave (312-226-8828). 9pm–2am; free with R.S.V.P. and before 9pm, after 9pm $5.
Nerds at Heart's Sixth Annual Love Fest
The people behind the monthly mixer Dating for Nerds salute the geeks among us with themed prizes. Write the funniest line of cheesy poetry and you can win a Han Solo chocolate bar, an 8-bit flower bouquet or a decoder ring. Rebel Bar & Grill, 3462 N Clark St (855-637-3568). 7pm; $20, registration required.
Stupid Cupid Pub Crawl
Far Northwest Side neighborhood Edison Park gets into the V-Day spirit with this pub crawl. Win a free T-shirt and other prizes at three bars. The Emerald Isle, 6686 N Northwest Hwy (773-631-0063). 6:30–9:30pm; $20.