Where to Bike: Chicago
Ruth Welte takes Greg Borzo's book out for a test drive.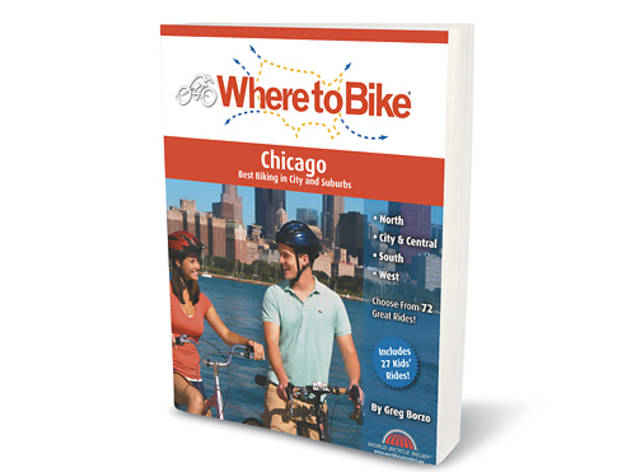 Greg Borzo's cycling guidebook Where to Bike: Chicago (BA Press, $24.95) features rides all over the city and suburbs. To get the absolute last drop of joy out of the book, you need a few unexpected pieces of equipment: first, a bicycle odometer, to help you follow the distance-based turn-by-turn directions. Second, a car. (That second one's a doozy, right?) For 16 of the 45 adult rides described, the "How to Get There" section states, "This ride is not readily accessible by transit." Fortunately, Where to Bike still offers a great deal to car-free bike purists like me. Happy to vet the offerings, I tried out two rides. Here's how they fared.
Fox River Trail
Hopping off the Metra in Geneva, some 40 miles from my Logan Square home, I appreciated the book's clear instructions from train station to trail head. The guidebook warns the 25-mile route it picks out from among the network of trails along the Fox River might be hard to follow, and sure enough, I took a wrong turn early on and briefly pedaled up a steep sidewalk to a gravelly dead end. I got back on track, and the riding was heavenly. Clumps of daffodils and scampering chipmunks lined the trail. The path itself is smooth and well-maintained, far from cars and traffic lights. After winding my way past a historic windmill and a scenic dam and over several small bridges, I ate my brown-bag lunch on a riverside bench. I rode back north toward St. Charles through Aurora, Batavia and the Fabyan Forest Preserve, occasionally crossing a suburban street dotted with bakeries and shops. The map includes icons for nearby restaurant locations, but doesn't give restaurant names; I wished it did. The better-labeled points-of-interest icons were helpful, though, both in making sure I didn't miss any interesting sites (like that windmill) and in helping me track my progress en route.
Northwestern University Trail
Evanston is familiar to many but uncharted territory to me; again the directions to the trail from the Main Purple Line stop came in handy. This 4.2-mile lakeside ride starts in Elliott Park, a beach-lined lakefront plot of grass, and then ducks onto Northwestern University's campus, a mix of traditional Gothic and modern glass-clad buildings. The ride, including a scenic loop around a pond and a great view of the downtown skyline, was "easy and relaxing" as advertised, and because it covered less territory, the accompanying map gave more detail, allowing me and my ride companion to use cross-street names to track our progress—and to navigate around Evanston in search of a post-ride lunch, which we enjoyed at Sashimi Sashimi (640 Church St, Evanston, 847-475-7274).