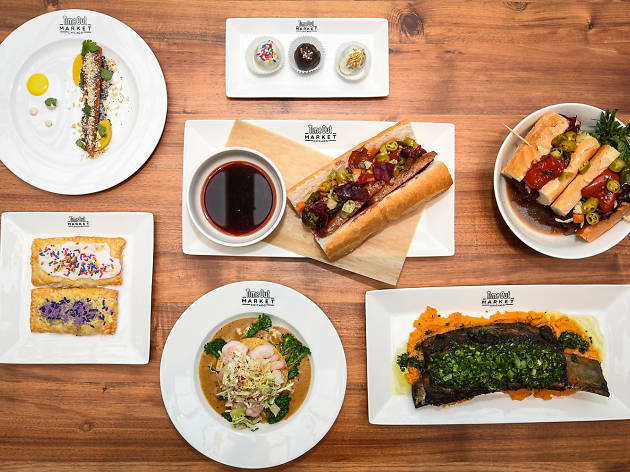 Your guide to the food and drink at Time Out Market Chicago—and how to order
Before you visit Time Out Market, take a closer look at our all-star chef eateries and beverage offerings
There's a lot going on inside Time Out Market Chicago, the 50,000-square-foot food and cultural epicenter located at 916 W Fulton Market in the heart of the West Loop. The building is home to editorially-curated eateries from some of Chicago's top chefs, several world-class bars, a state-of-the-art demonstration kitchen and an impressive all-season rooftop terrace. We'll give you a second to catch your breath.
As we reopen, you'll notice some new safety measures in place to keep you and our staff safe, like cleaning stations at both entrances as well as plexiglass partitions emblazoned with quotes about Chicago from the likes of Anthony Bourdain, Gwendolyn Brooks and Chance the Rapper. Plus, you can use our handy new app to browse and order food digitally—you'll receive a notification when your meal is ready to be picked up. It's easy and contact-free.
Speaking of food, there's plenty to explore, with menu options that run the gamut from stacked burgers and pillowy dumplings to flaky croissants and whimsical ice-cream bars. Take a closer look at all of our chef and beverage options, and visit Time Out Market Chicago in the West Loop.
Time Out Market Chicago eateries