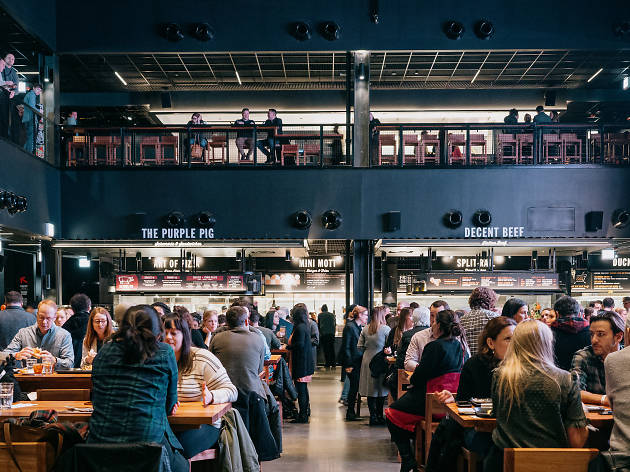 A guide to Time Out Market Chicago eateries
Before you visit Time Out Market, take a closer look at our all-star chef eateries and beverage offerings
There's a lot going on inside Time Out Market Chicago, the 50,000-square-foot food and cultural epicenter located at 916 W Fulton Market in the heart of the West Loop. The building is home to editorially-curated eateries from some of Chicago's top chefs, three world-class bars, a hidden tiki speakeasy, a state-of-the-art demonstration kitchen and event space and an impressive all-season rooftop terrace. We'll give you a second to catch your breath.
Once inside Time Out Market Chicago, you'll have three floors to explore. Visit our chef eateries on the first and second levels, with menu options that run the gamut from stacked burgers and pillowy dumplings to flaky croissants and whimsical ice-cream bars. On the second floor, you can check out events in the demo kitchen or grab a tropical drink in our speakeasy concept, Secret Sound. End your trip with a tipple at Tony's, the year-round rooftop bar on the third floor.
Is your mouth watering yet? Take a closer look at all of our chef and beverage options, and visit Time Out Market Chicago in the West Loop.
Time Out Market Chicago eateries