I would fly 4 U
We may have missed Prince by a couple of hours, but purple isn't the sole color of the city's vibrant music scene.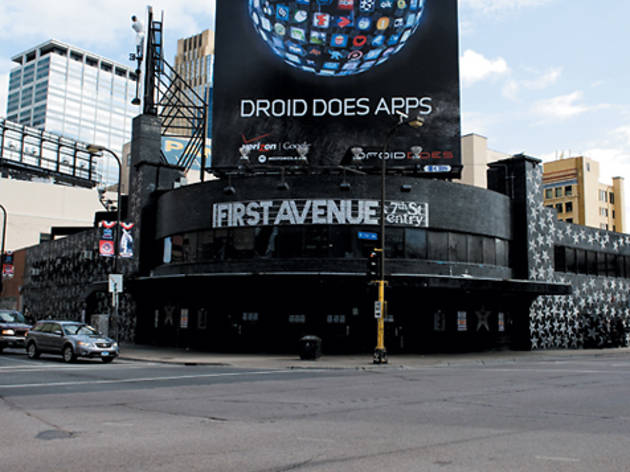 1/7
Photograph: Andrew Nawrocki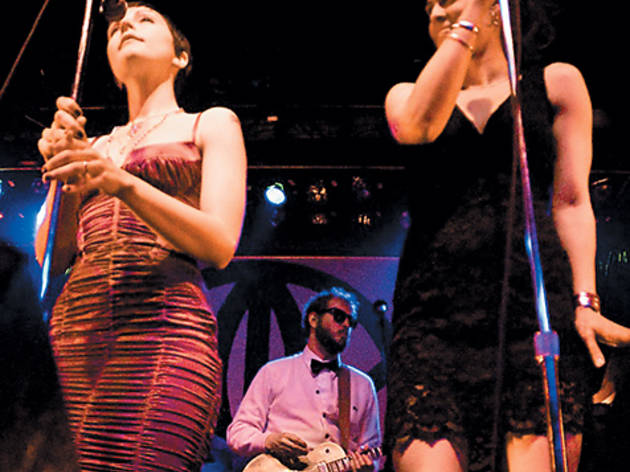 2/7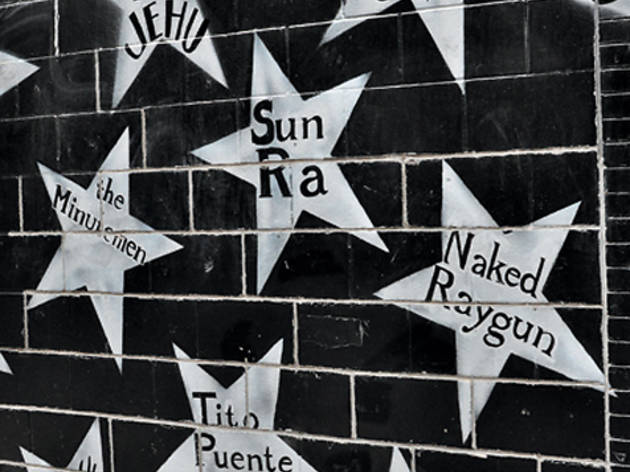 3/7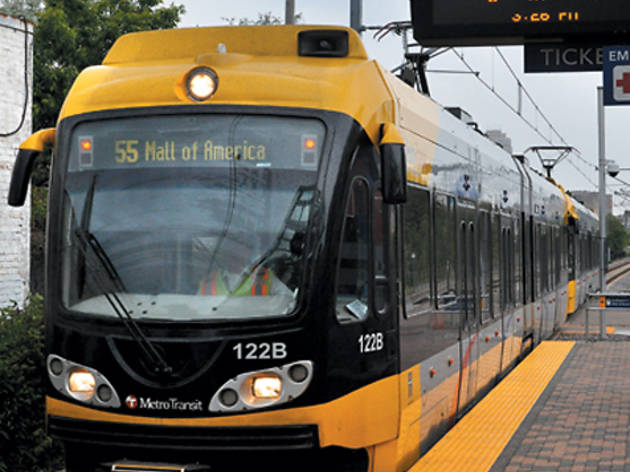 4/7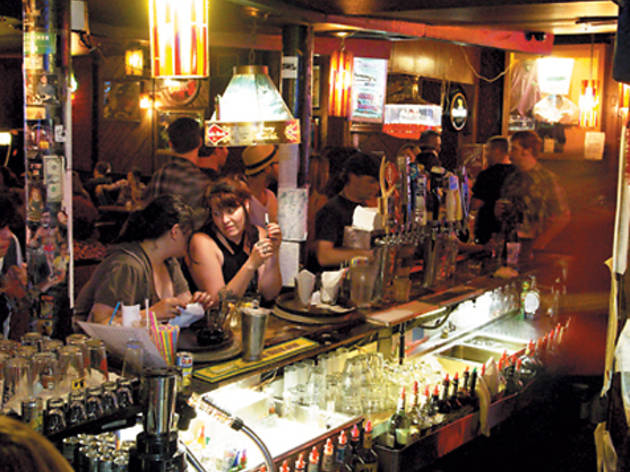 5/7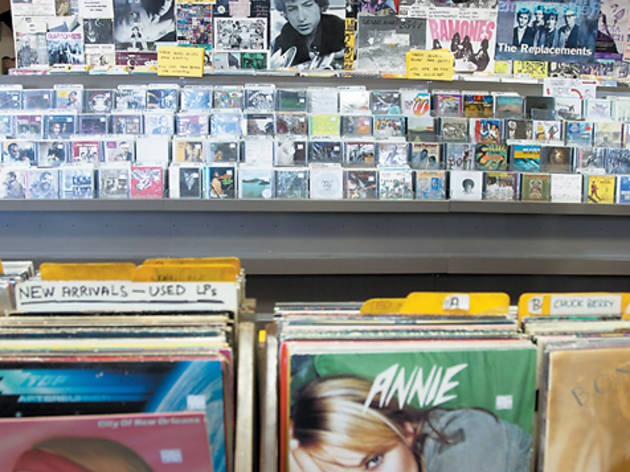 6/7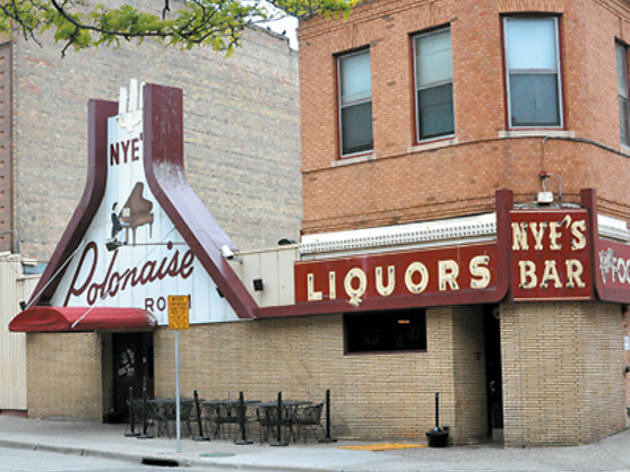 7/7
GETTING THERE By plane United flight from O'Hare Time 4 hours door-to-door Price $175 [2010]
It's a warm, gorgeous Friday afternoon, but downtown Minneapolis is a ghost town. Thanks to a 60-minute jet hop, I was just in Chicago, and it's a bit jarring to be standing in a glittering urban environment minus the din of street drummers, panhandlers and cab honks. Above the streets, in the labyrinth of Skyway passages, office workers scamper to parking garages like hamsters. Perhaps the locals are just too accustomed to getting around in their nifty climate-controlled walkways. After all, though it's near 80 when I arrive, it snowed just last weekend.
I stop for a moment at a street directory to get my bearings. A man in a bright green jacket approaches and says, "Hiya!" He introduces himself as Marty Cole, of the Downtown Improvement District, a uniformed task force for greeting folks. He slips me a card in case I need directions or dinner recommendations. Minnesota Nice—on patrol! Marty steers me through Nicollet Mall (the pedestrian shopping zone where Mary Tyler Moore tossed her hat) to the Foshay Tower, which houses the swank W Hotel, where I venture up to the open-air observation deck. Standing in the wind at 32 stories, I'm quickly reminded of my crippling fear of heights, so I retreat down to the dim lobby for more delectable forms of wooziness. Sitting on a black and purple sofa, I order an elderflower cocktail and a couple of froufrou spins on comfort foods: flaky, beer-battered cheese curds and a crisp grilled cheese with apple. Suddenly, I get the sensation I'm sitting in Prince's vampire lair, and feel greasy in two ways. Time to hit the Purple One's true old stomping grounds, First Avenue & 7th Street Entry.
Bottle of Grain Belt in hand, I tuck into a table in back of the venerable rock club. It's full of nooks and crannies, with many places to avoid what's happening on stage. In this case, it's Minneapolis's own Gayngs, Bon Iver's soft-rock supergroup, cheesier than the appetizers in my gut, and I need a dark booth. This joint may have been around for 40 years, but it's the artists who make the history, not the building. And these indie rockers in white suits playing smooth, druggy R&B won't get their own star painted on the wall outside.
I walk a few blocks up the strip of nightclubs that surround the Target Center to find a less renowned though more disinfected venue, the Fine Line Music Cafe. Skylights, streetlamps and plenty of small tables make for a cleaner, comfier rock show, but the treat is an adorable local college band with an exceptional female drummer and a Built to Spill vibe. Later, a crew of frat boys sloppily rips into a cover of "Panama." The smarmy singer grunts, "This next song's called 'Too Blue,' and it ain't about feeling sad." Ugh. I walk back along the Mississippi to my hotel, while unbeknownst to me Prince makes an appearance at First Ave. D'oh.
The next morning is pristine, so I hoof it around town. First up, however, a moment to carbo-load on some mini doughnuts and aebleskiver (spherical Norwegian pancakes) at the Mill City Farmers Market. The Stone Arch Bridge takes me over the roar of St. Anthony Falls and into the Northeast neighborhood. What appears to be a blue-collar hub of dive bars and sleepy postwar ranch houses is a clandestine arts district. Warehouses, long-vacated casket factories and railroad stockyards now house a staggering array of studios. A painter in a storefront shop persuades me to check out the largest of these, the Northrup King Building, a sprawl of painters, printers, jewelers and furniture makers. It would take a week to see it all, and the artists open up to the public only on the first Thursday of every month. Stick to the second floor, where I find nostalgic Polaroids, screened posters and Scandinavian knickknacks.
On the way back downtown, I hit Brasa for some Creole barbecue and the juiciest pulled chicken you can find this far north. Just down the street, I stumble into the gem of all local watering holes, Nye's Bar and Polonaise Room. It's 1964 preserved in amber lighting and wood paneling. Yeah, the Replacements may have killed their brain cells at the far hipper and dingier CC Club, but those dudes broke up years ago. I'll take this granddad joint any day, with its vinyl booths and septuagenarian pianist, "Sweet" Lou Snider, who's been tickling the ivories under a fading painting of Chopin for four decades. The Light Rail Line (a streetcar running from Target Field, through the airport, to the Mall of America) shoots me south to Uptown for some record shopping at Electric Fetus, which makes Reckless look like a garage sale, and the more vinyl-leaning Treehouse Records, which used to be dubbed Oar Folkjokeopus and was the hangout of Hüsker Dü, et al.
I end the weekend with some high culture. Like the Guthrie Theater, Orchestra Hall looks constructed from LEGOs. Inside the main hall, gargantuan white cubes are set into a baby-blue backdrop and ceiling, evoking an abstract arctic ice field. When the players stride out in tuxedos, it's hard not to think of penguins and chuckle. And, though the orchestra is flawless, laughing seems acceptable here. During the climax of a Haydn symphony, the audience prematurely bursts into applause three times, cutting into the music. The conductor rolls with it, smiles and sarcastically and dramatically signals when it is safe to clap. Okay, now. This is the classical world, the most stuffy of arenas, and there is rolling in the aisles. Minneapolis just doesn't do pretentious.
WHERE TO FIND IT
Brasa 600 E Hennepin Ave (612-379-3030, brasa.us)
CC Club 2600 S Lyndale Ave (612-874-7226)
Electric Fetus 2000 4th Ave South (612-870-9300, electricfetus.com)
Fine Line Music Cafe 318 N 1st Ave (612-338-8100, finelinemusic.com)
First Avenue & 7th Street Entry 701 N 1st Ave (612-338-8388, first-avenue.com)
Northrup King Building 1500 Jackson St NE (612-706-1747, northrupkingbuilding.com)
Nye's Bar and Polonaise Room 112 E Hennepin Ave (612-379-2021, nyespolonaise.com)
Treehouse Records 2557 S Lyndale Ave (612-872-7400, treehouserecords.blogspot.com)