The Highlight | Ireland
Taking falconry lessons in Ireland.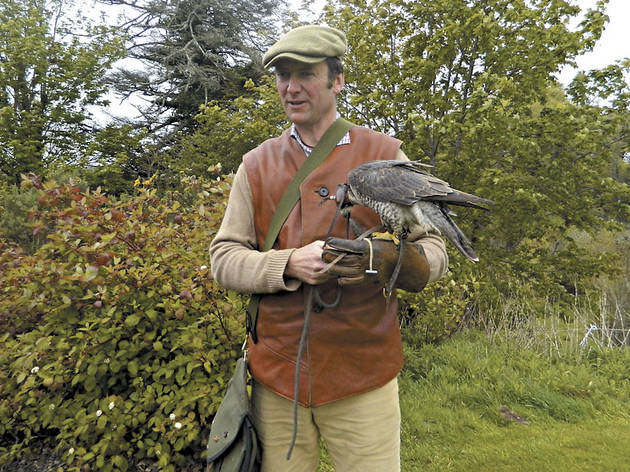 1/4
Photograph: Amy Cavanaugh
Falconer Dave Atkinson at Dromoland Castle in Ireland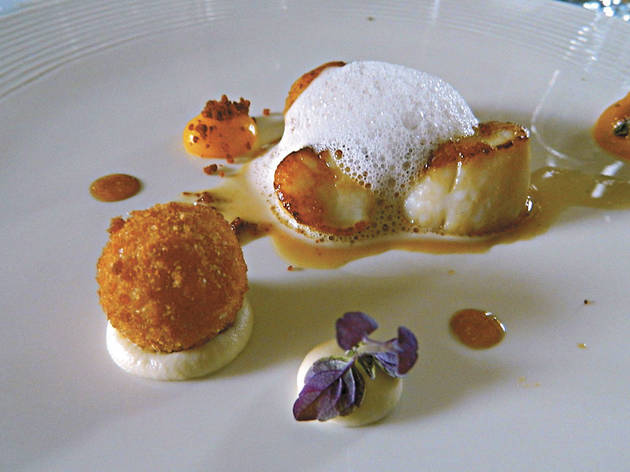 2/4
Photograph: Amy Cavanaugh
Pan-fried scallops at Gregans Castle Hotel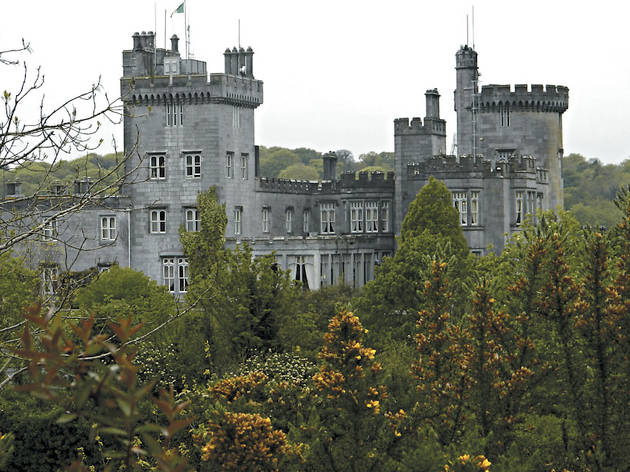 3/4
Photograph: Amy Cavanaugh
Dromoland Castle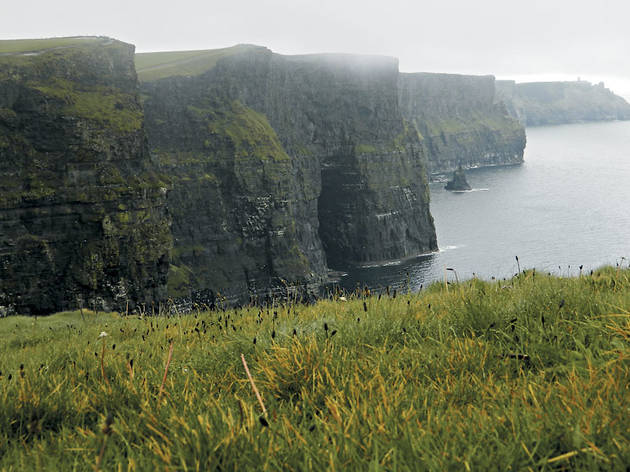 4/4
Photograph: Amy Cavanaugh
Cliffs of Moher
"You need to wear this," he says, handing me a thick, brown leather glove. I slide it on; it's a little big for my left hand. "Now hold out your arm and make a fist, then turn your wrist 90 degrees," he instructs, then presses down on my arm to make sure it's steady.
Dave Atkinson is an expert falconer at Dromoland Castle, a hotel just outside Newmarket-on-Fergus in western Ireland. He runs the onsite Dromoland School of Falconry, which is a playground for bird enthusiasts—it offers everything from evening owl walks to the chance to take hawks on a simulated hunt. Today he's giving me and a few others a lesson in falconry, an ancient sport in which birds of prey are trained to catch game. The school has 13 raptors (two Peregrine falcons, three owls, four Harris's hawks and some goshawks and Lanner falcons), some native to Ireland and others hailing from Asia and Africa.
Atkinson brings over Limerick, a two-year-old female Peregrine falcon. She weighs one pound, 15.5 ounces as of this morning—Atkinson weighs the birds daily to make sure they're an appropriate flying weight. On her ankles she's wearing jesses, thin leather straps that Atkinson uses to help control her on his arm.
Atkinson places her on my arm, and she settles herself in, gripping her talons in a way that would surely hurt if I wasn't wearing the leather glove. Holding my arm straight out eventually gets tiresome; adding a nearly two-pound falcon makes me fear I am going to drop her. As Atkinson explains to the group what we are going to do with the falcon—I'm going to help Limerick cast off in flight—she turns her head to consider me. She has serious eyes that seem too large for her head, and a white throat that makes it look like she's wearing a ruffled collar. Peregrines are mostly brown their first year of life, then begin to develop their signature Peregrine blue feathers. Limerick cawed a bit while Atkinson held her, but on my arm she is silent.
"Falcons take off when they want to," Atkinson says, then spins a "treat" attached to a rope through the air to encourage Limerick to take flight. She pumps her wings up and down, making me feel like I've walked straight into the Chicago wind. Finally she takes off, flying high above the trees that encircle the green we're standing on. She's too fast for me to track, but Atkinson spots her.
"She's up there chasing a pigeon," he says, pointing to a dot darting across the sky.

Atkinson lets her fly around for a few minutes, but she's unsuccessful catching the pigeon. He lures her back in with the treat—it's a day-old cockerel (rooster) chick that Limerick hovers over, protecting it with her wings before devouring the entire animal, feathers, bones, and all.
After her meal we bring Limerick back up to the mews, where she stays with the other raptors. We visit with owls and feed some hawks, and then it's time for our own dinner back at the castle—though after helping Limerick devour the chick, it's kind of hard to think about eating.
---
PLAN IT
More to do
Where to eat
Gregans Castle Hotel, situated amid a rocky, moonlike landscape, is a quaint spot that will challenge your expectations of Irish cuisine. Settle in next to the fire with pan-fried scallops with a fried egg sphere ($30).
Where to stay
Idyllic Dromoland Castle is a former baronial castle that was rebuilt in the 1800s. Each room (doubles start at $234) is decorated in warm colors and elegant fabrics, and common areas feel straight out of Downton Abbey.
Where to day trip
An hour drive from Dromoland are the Cliffs of Moher, which loom 700 feet above the Atlantic Ocean and are home to thousands of nesting seabirds, including puffins. A visitors' center ($7.50) includes exhibits and a café.
Get there Delta flies round-trip through New York-JFK to Shannon Airport, a nine-hour flight (not including layover time). Fares start around $700. Dromoland Castle is located just outside Newmarket-on-Fergus, about nine miles from the airport.
Writer's trip courtesy of The Dromoland Collection.