Argo's Oscar chances
We offer reasons Ben Affleck's CIA drama might win Best Picture—and why it might not.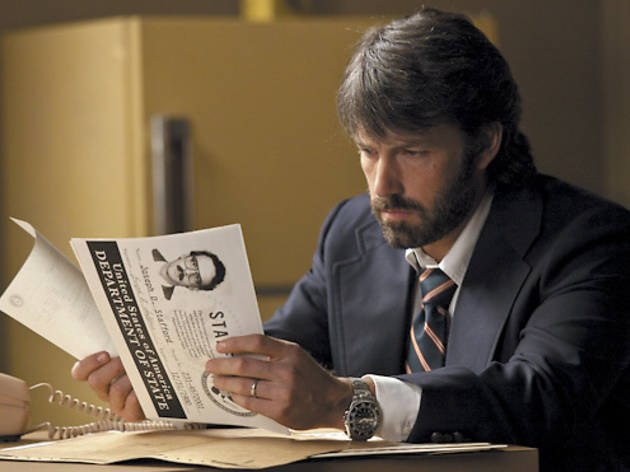 When Argo premiered in August, prognosticators immediately labeled it a likely Best Picture winner. Ben Affleck's thriller, in which the director plays a CIA operative smuggling six Americans out of Iran during the 1979 hostage crisis, seemed to offer a winning blend of Hollywood satire and plucked-from-the-case-files drama. Awards-season oddsmakers lost their faith in the film during the months that followed, but after a slew of Guild wins, the movie is a favorite again. With the ceremony coming up February 24, and Argo arriving on demand this week, we offer a few reasons it's the nominee to beat—or not.
Why Argo might win
Hollywood loves movies about Hollywood.
Last year's Best Picture, The Artist, was just the latest in a long line of Academy-honored films that pay tribute to the Dream Factory. Argo hits multiple sweet spots: It pokes gentle fun at the movie biz, with Alan Arkin's and John Goodman's industry insiders providing a steady stream of quips, while also celebrating the essential role the old studio pros play in the mission. What could be more irresistible to the Academy than a Hollywood producer who saves the day?
The film celebrates CIA heroism—without mentioning torture.
Pundits have speculated that the controversy surrounding Zero Dark Thirty's depiction of torture may hurt the film's Oscar chances. Argo sidesteps such prickly concerns by focusing on a "cleaner" CIA operation, accomplished through nonviolent deception. Voters can thus salute the bravery of U.S. intelligence officers without fear of implicitly endorsing "enhanced interrogation."
The Academy of Motion Picture Arts and Sciences is often kind to actor-directors.
Clint Eastwood, Robert Redford, Warren Beatty, Kevin Costner and Mel Gibson are just a few of the Oscar-winning filmmakers who began their careers in front of the camera. While Affleck's exclusion from the Best Director category means he won't be joining their ranks just yet, Academy members may correct this "snub" by voting for Argo as Best Picture.
History is on its side.
Argo has picked up top prizes from the Golden Globes, the DGA and the PGA, along with SAG's ensemble award. No film has ever claimed those four and failed to win Best Picture.
Why Argo might lose
It lacks the sweep and pedigree of Lincoln.
Argo's stiffest competition has to be Steven Spielberg's historical drama, which leads the field with a whopping 12 nods. (Affleck's movie is only up for seven.) Beyond its confluence of AMPAS-friendly plot elements—slavery, war, politics—Lincoln also boasts a prestigious cast and crew.
The movie has been called politically insensitive.
A few critics have accused Affleck of playing to American fears of the Muslim world, reducing most of Iran to a sea of unfriendly faces. Though Affleck is drawing on actual events, there's a vaguely jingoistic slant to his approach.
History is not on its side.
How many films have won Best Picture without an accompanying Best Director nomination? Argo would be the fourth, after Driving Miss Daisy (1989) and—going back to the awards' inaugural years—Wings (1927) and Grand Hotel (1932).
Final odds
2–1. Our gut says Argo may still fall to Lincoln or—if Harvey Weinstein can work his awards-season juju—Silver Linings Playbook. But with the Oscars, it's usually smart to follow the trends. Also, don't bet against a crowd-pleaser in which Tinseltown bullshit artists become national heroes.
Argo is available now on Amazon Instant Video, iTunes and VUDU. It arrives on VOD, DVD and Blu-ray Tuesday 19.