Sean Saves the World: TV review
Sean Hayes stars as a gay man learning to be a single father in NBC's disappointing new sitcom.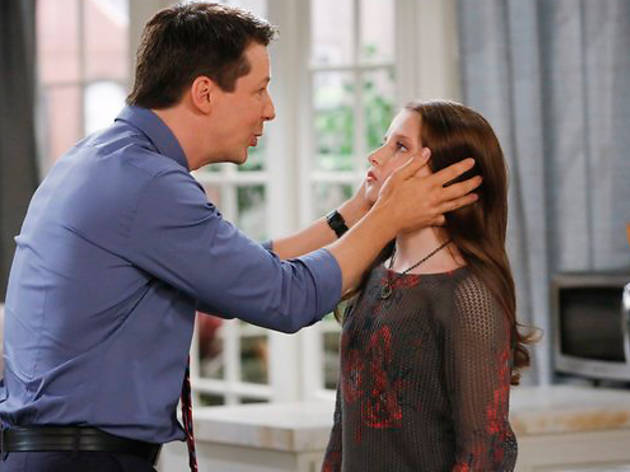 Once upon a time, NBC used to make oodles of successful multi-camera sitcoms like Seinfeld, Friends and Will & Grace. Sean Saves the World feels like a relic of those glory days, when the once giant network would launch sub-par shows (who remembers Inside Schwartz?) sandwiched in between its mega-hits to boost their ratings. But those days are long gone; there are no juggernauts to boost this limp comedy, an imitation of 10-year-old crowd-pleasers.
Sean (Sean Hayes) is a gay man who fathered a child with his ex-wife back when he was trying to pretend to be straight. Now his fourteen-year-old daughter Ellie (Samantha Isler) has come to live with him full-time after her mother moved away for a job. While struggling with being a single father, Sean is also dealing with his new boss, Max (Thomas Lennon), who recently purchased the online retail company that Sean manages. The Reno 911 star insists that all of employees work ridiculously long hours.
RECOMMENDED: We review this season's new television shows.
The humor and structure of Sean Saves the World make it feel a sitcom that's been locked in the freezer for years. Every joke feels like it was recycled from discarded Will & Grace scripts. Despite a cast full of likable comic talents, the only one that gains any traction is Isler, who feels like a modern-day sitcom character shot through a wormhole to the '90s, trying figure out why everyone around her is nuts. And, despite being fourteen, she also acts more like an adult than everyone else in the show.
The office humor is where Sean suffers the most. Lennon, an extremely funny man, is held back by his ridiculously broad character, who's practically goose-stepping through the set. It also seems that no one ever bothered to clearly define the kind of work that Sean and his colleagues do. The phrase "online retail" is thrown around an embarrassing number of times, as if it actually means anything. This isn't a real workplace, it's a just venue for Sean and his friends to complain about their weird boss.
Don't be fooled by the show's overly ambitious title: This series can't save itself, let alone the world.