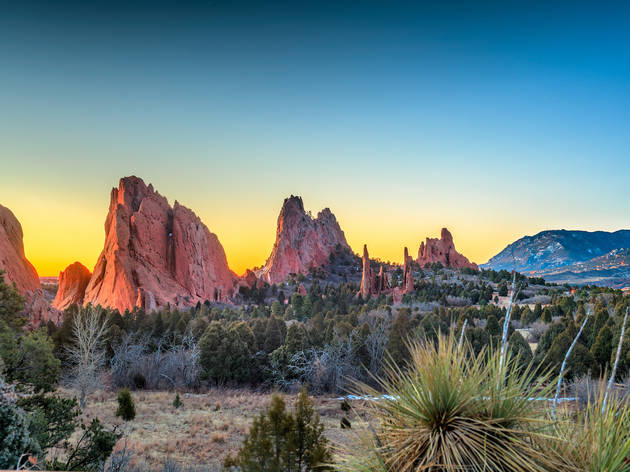 The 20 best things to do in Colorado Springs
Ancient cliff dwellings and rhino feedings are just some of the best things to do in Colorado Springs this year
Colorado Springs isn't just Denver's smaller sister-city to the South, it's a whole new place to explore with a storied history all its own. Old Colorado City, the original capital of the Colorado territory, has transformed over the past century. Its frontier-era Main Street has swapped saloons for modern storefronts, and the city has grown around it – all with a gorgeous Rocky Mountain backdrop. Outdoorsy types will soak up the scenery, from spectacular waterfalls rushing down a box canyon and hiking an almost vertical cable car track to meandering through otherworldly red rock formations and wading into a babbling river full of rainbow trout.
But that's not all that draws visitors from around the globe. There are world-class museums, resorts, restaurants, and golf, too. Tourists can visit the U.S. Air Force Academy, train with Olympic athletes (or learn how they train), and even play penny arcade games. Its proximity to Denver makes it an easy day trip, too. The region has no shortage of ways to get acquainted with the Wild West and the frontier spirit that shapes the city's character and heritage. So rustle up your inner cowboy and start exploring the best things to do in Colorado Springs.
RECOMMENDED: The best hotels in Colorado Springs
Best things to do in Colorado Springs
Feeling hungry?
The chefs and restaurateurs in this Front Range hub are committed to pushing the foodie envelope farther and farther, even as they strive to preserve the dining traditions that anchor this picturesque urban oasis at the foot of the Rockies.
Best selling Time Out Offers